Clarendon Fine Art is set to launch a new exhibition in Covent Garden that celebrates positivity at a time of immense loss, as much of the world today suffers in the throes of conflict and war.
"The Prodigy", Maxim's new solo exhibition at Clarendon's flagship Covent Garden gallery comes ahead of his first major European tour, "Army of Ants".
It presents a collection of evocative compositions that challenge stereotypes by presenting them as an antithesis.
Maxim said: "There's always a positive message in all my artwork. 
"The grenade is obviously something that causes destruction.
"You throw it in the direction of something you want to maim, kill or hurt. It is also something that man has designed.
"Someone designed this to kill and hurt people. I couldn't get my head around that. 
"So putting a heart inside that, the idea is that you throw it in the direction of where you want to spread love."
He also uses the symbol of a butterfly, a creature typified with delicacy, and depicts it as slaying other insects with a spear, as a proclamation of empowerment.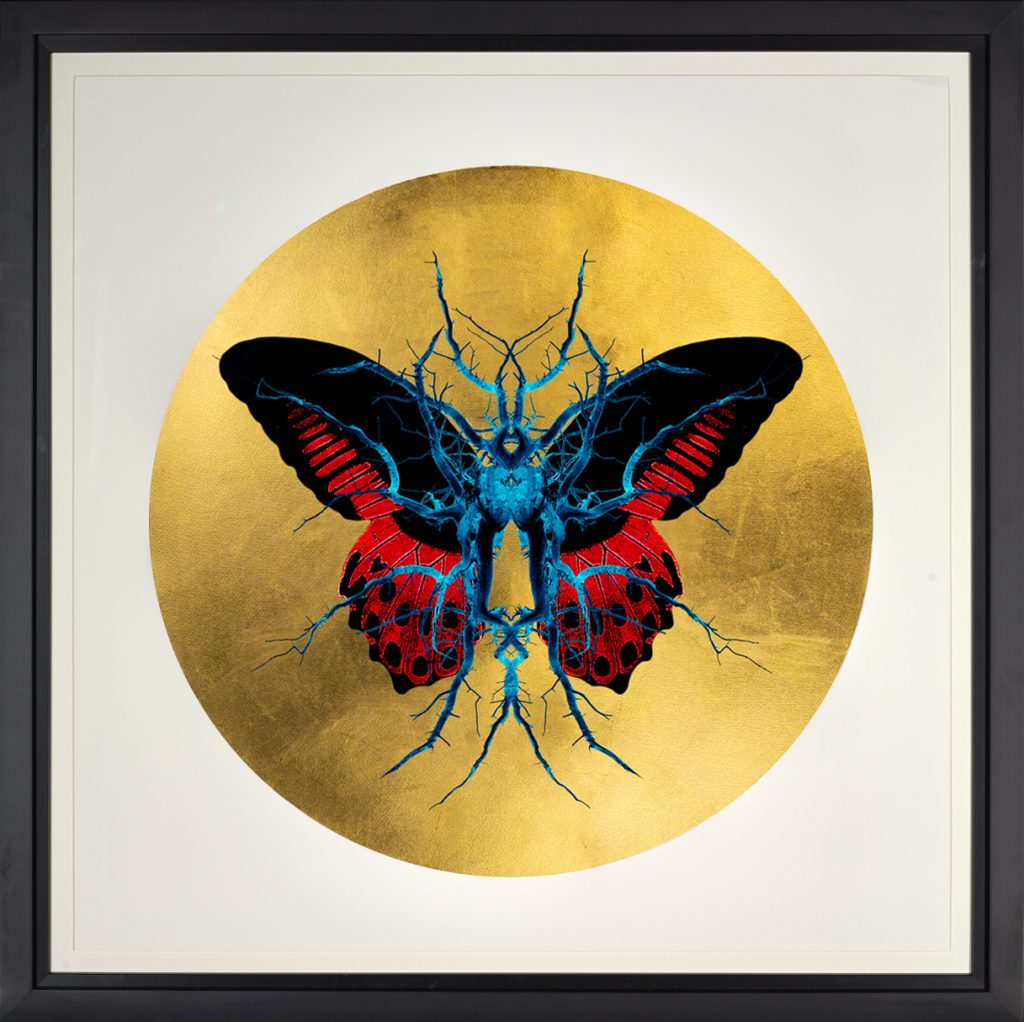 He said: "It's a metaphor for anything in your life that you need to conquer.
"The insects are the things you need to conquer, and the butterflies are a metaphor for empowering yourself.
"It's taking negative things and turning them into something positive.
"I believe that negative energy feeds negative energy and creates more negative energy – it continues and unfolds.
"But when you evoke positivity and spread that positivity, things just unfold and fall into place and good things happen to you.
"I think we're in a time where negativity is just a rollercoaster."
Having been influenced by the world of Dali and Bosch, Maxim is a surreal artist, taking symbols with weighted meanings and transforming them into something hopeful and empowering.
He hopes that his exhibition will challenge people's perceptions of art, provoke thought and celebrate the diversity of interpretations people have when it comes to abstract art.
"The thing is with artwork, we've all been pre-programed on how images affect us.
"You growing up, you might have fallen off your bicycle.
"If you see someone riding a bicycle you then have this impression that they're dangerous, because you fell off your bike when you were six years old," he explained. 
"So when you come to any gallery, you've always got this pre-programmed thought process, no matter what artwork you look at, because it's your life experiences.
"You have your ideas on things. Images will evoke your past lived experiences of things. 
"That's the beauty of artwork, it can trigger emotions, and people sometimes regress and think of when they were younger.
"It's crazy how artwork can evoke these kinds of thoughts."
The freedom of interpretation is something Maxim values in abstract art, as it signifies something different to every person, allowing for introspection and a breath amidst the ongoing rush of the outside world.
Maxim has "always been a creative", and it was when he went on tour in America that he was shown techniques like stencilling in New York, allowing him to develop his skills further.
He said: "I just discovered that I was really into art when I needed artwork for my house.
"I looked at this art and I just thought, 'I could do that'."
He then designed the artwork for the walls of his house, experimenting with washes of paint, and it wasn't long before his friends requested his paintings for their own homes.
He added: "I found a freedom in painting – it unlocked something in my head.
"Something I really enjoyed."
His exhibition offers a timely respite from the tragedy being inflicted across the globe, and provides viewers with an opportunity to be immersed in a reflective, introspective experience.
It encourages them to look for the positives in a world plagued with turmoil.