Dear England at the Prince Edward Theatre is a poignant, funny and ultimately uplifting look into Gareth Southgate's tenure as England manager.
The play, anchored magnificently by The Handmaid's Tale's Joseph Fiennes as Southgate, explores not only his time as England boss so far, but what it means to be English.
It's significantly better at the former than it is at the latter, even as it eschews any assessment of Southgate's skills as a manager to focus on his attempts to change the culture and mentality of the England dressing room.
The play anchors itself around the dreaded penalty shootout and England's torrid history with the format.
Southgate himself famously missed a crucial penalty in the semi-finals of Euro 96 and the psychological trauma of that event haunts him throughout the play, as he attempts to break England's penalty curse.
If it sounds like there's a lot to unpick narratively, it's because there is.
The play wants to examine the fear behind missing crucial penalties, the toxicity around English football culture and, ultimately, what a post-Brexit England even looks like.
There are some vicious takedowns of real-life secondary characters with Sam Allardyce, Matt Le Tissier, Greg Clarke, and the three Prime Ministers who resigned during Southgate's reign all taking some flak.
And at the heart of it all is Fiennes is Southgate, who is so immersed in the role that at times you forget you're not watching the real Gareth Southgate as his mannerisms and speech are note-perfect.
There are highlights in the supporting cast: Will Close as Harry Kane is sensational even if his character feels like a heavily dramatised version of the real forward and Josh Barrow as Jordan Pickford is a delight.
The comedic scene-stealers however are Crystal Condie and Lloyd Hutchinson who play a myriad of roles between them but are effortlessly funny every time they're on stage.
It's impossible to escape however, the feeling that this play is trying to do too much.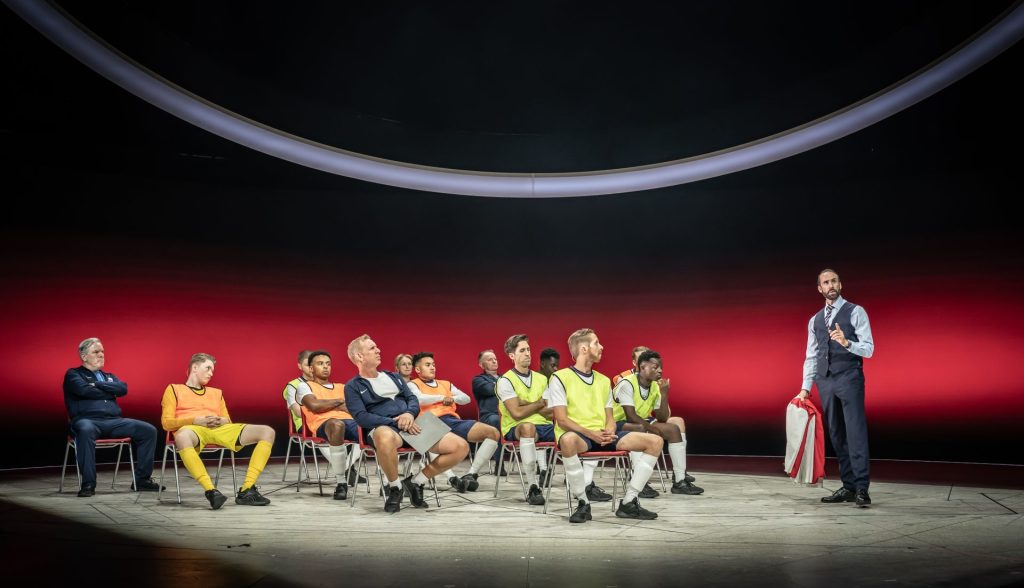 The England manager job has always been about more than being England manager and Southgate has embodied that more than most.
Nevertheless, between Southgate's attempts to be more than just a manager, his efforts to break the penalty curse and actually win international tournaments and of course, the wider social commentary, it feels like things don't quite mesh together.
As a result, while it's funny to see the literal revolving door of Conversative leaders outlasted by Southgate, the "What is England?" aspects feel a bit thin.
That, to me, is partly because it feels like our society has changed and fluctuated so much over the last seven years that trying to bend that to fit in with how Southgate has gone on at times feels like it doesn't fit together as organically as the play clearly wants it to.
Pacing is also a bit of an issue. Southgate declares early on that he's telling a story with his England team and that that story will take a three-act structure.
However, by the time the curtain drops for the interval, we're only midway through Act One of that story, with the first two years of Southgate's reign given equal weight to his last four.
That inevitably makes certain elements feel squeezed, especially as the weighty issues surrounding the England team and the aftermath of the 2021 Euros needed to be given due consideration.
As a result, the wider social themes around the Qatar World Cup feel rushed with Kane's decision not to wear the 'OneLove' armband slightly glossed over.
I'm also unsure how I feel about the slightly Ted Lasso-esque treatment of Southgate, boiling the core tenet of his time as manager down to him being a good bloke trying to do the right thing.
The kindness of Southgate is deliberately contrasted to those of his superiors and politicians, creating a sense that in a broken, post-Brexit Britain, everything would be better if we were all a bit more Southgate.
Ultimately however, Fiennes and co cast a spell that leaves you believing in the message and believing in Southgate himself.
That's mostly because, in the end, a message that the real England can be loving, kind and better than our divisions is a powerful one and the idea that in some way our football team can embody that is a wonderful ideal.
And it's an ideal that the play leaves you wanting to believe in too.
Dear England is currently performing at the Prince Edward Theatre, having previously been at the National Theatre.
You can pick up tickets here.
Featured image credit: Marc Brenner