American writer and academic Margo Jefferson's work of non-fiction, Constructing a Nervous System, won the 2023 Rathbones Folio Prize.
The Pulitzer-prize winner, 74, described her work as a temperamental autobiography, an allusion to how it weaves personal experience and cultural critique.
Addressing figures from WEB Du Bois and male jazz icons of the 1950s, to Margaret Mitchell and Condoleezza Rice, Jefferson grapples with what it means to be shaped by cultural figures who would never extend the same regard to her as a Black American woman.
The judges described it as: "Life as a living art, a joyous, moving and inventive read."
The Rathbones Folio Prize is unique in celebrating writers across a range of genres: fiction, non-fiction and poetry.
This year, prizes were awarded to a winner in each category for the first time, along with an ultimate winner.
In the fiction and poetry categories, Michelle de Kretser won with her novel for Scary Monsters and Victoria Adukwei Bulley won with her debut poetry collection Quiet.
As category winners, de Kretser and Adukwei Bulley received £2,000, while Jefferson received £30,000.
The day before the announcements, at a live event at the British Library, in Euston, 10 of the 15 shortlisted nominees gathered to discuss their work.
This year's three judges: Ali Smith, Jackie Kay and Guy Gunaratne, each chaired a talk with a small group of nominees, which included de Kretser and Adukwei Bulley.
Like Jefferson, poetry winner Adukwei Bulley's work also discussed writing the self.
During the first talk, she described Quiet as: "About the self, the interior self that is not for sale to the world, and how it is filtered through gender, through race and through the world, which will encroach upon it."
The writer and filmmaker discussed the transformative power of creating the collection, a process of curating work she wrote up to six years ago, alongside writing new poems.
She said: "I knew that I wanted to be somewhere else, mentally, emotionally, intellectually, by the end of the book.
"I created a road map, still visible in the book when I look at the content page, and that's how I wanted to travel through the work and be someone else by the end of it."
In the evening's second talk, fiction winner de Kretser, discussed her novel's unique form, both physically and narratively.
Scary Monster is a two-person narrative with two front covers, each narrative progressing to the book's centre.
The concept helped de Kretser depict the experience of immigration, something the Sri lankan-born author experienced, having moved to Australia aged 14.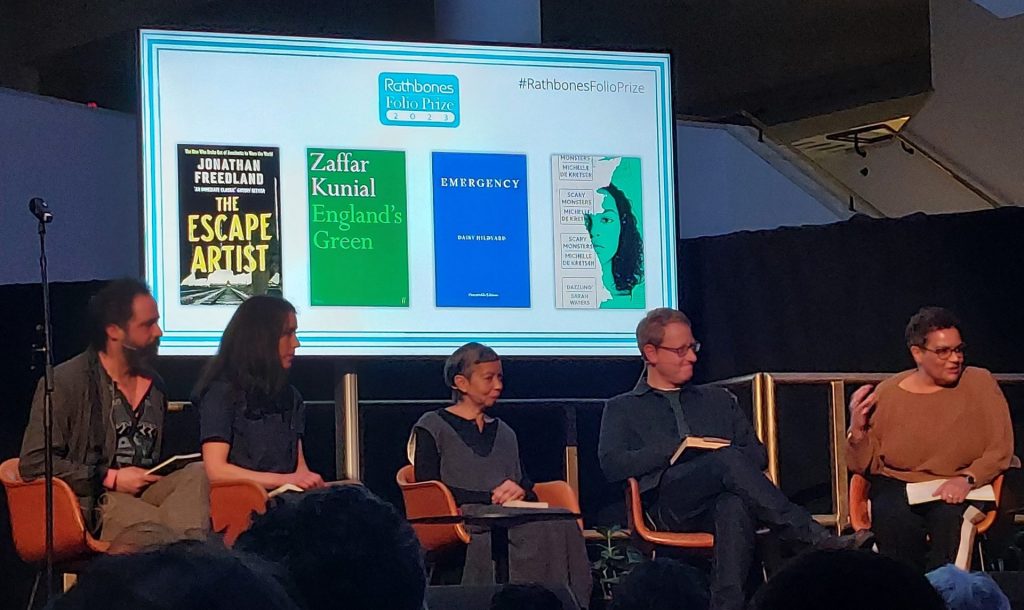 She said: "I did want to have a form that would embody the meaning of the book.
"Immigration turns lives upside down and the past isn't necessarily a guide to the future.
"As you learn to apprehend the world differently, the world apprehends you differently.
"I wanted the reader to experience, just fleetingly and on a micro-level, that sense that every immigrant has of: 'Who changed the story? How do I make sense of this? What is the meaning of this?'"
The prize is supported by a 300-strong academy of prominent writers and critics, who nominate works for the longlist and mentor winners.
A who's who of literary titans, it bursts with Booker and Nobel winners, including Margaret Atwood, J.M. Coetzee, Salman Rushdie, Zadie Smith and Tom Stoppard.
Colm Tóibín, who won for his novel The Magician last year, spoke of the significance of being recognised by his peers.
In his acceptance speech, he said: "I am extremely grateful to the judges, because this matters.
"It's a writers' prize, it's decided by writers, and obviously that means a great deal to me."
The prize, first awarded in 2014, was created following criticism that the Booker had become increasingly toothless, rewarding readability over literary brilliance.
Featured image credit: Jack1956 via public domain