A 47-year-old Ealing woman survived breast cancer and used art therapy to help process her battle with the disease during the Covid pandemic.
Yasmin was diagnosed with breast cancer during lockdown in 2020.
The cancer charity Maggie's helped her start art therapy as a measure for stress relief and to help her process what was happening to her.
Yasmin said: "Nothing can prepare you for the news. I knew I was in safe hands and that they had found the lump early, however, it was so painful when the specialist said you do have breast cancer."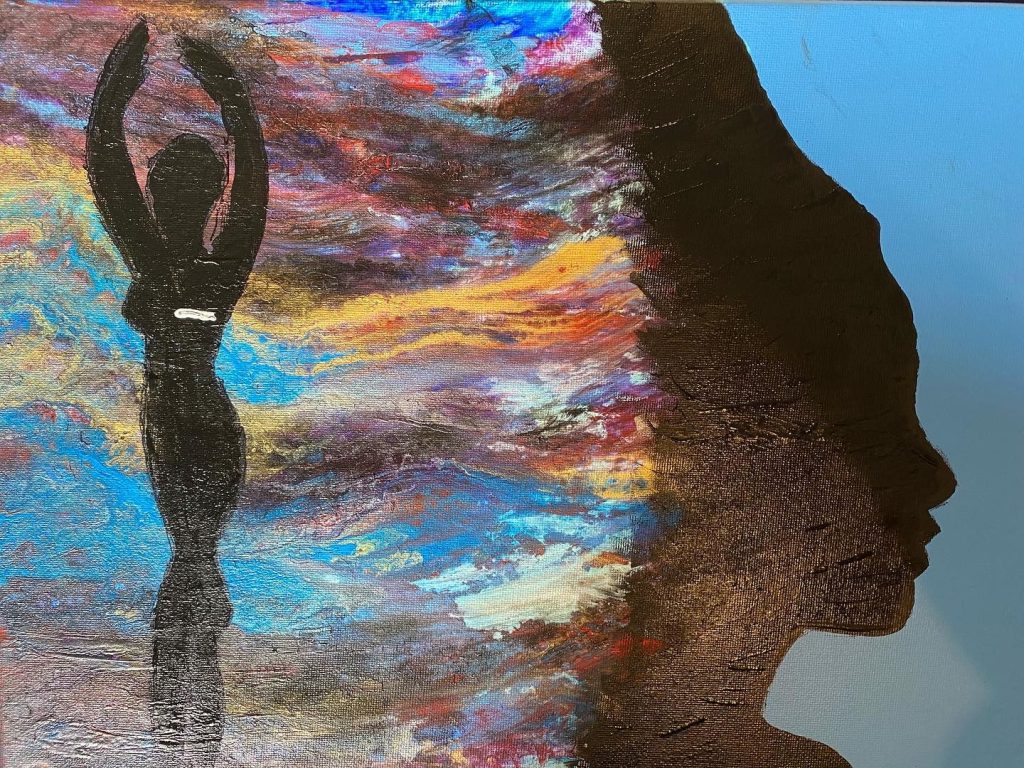 Yasmin still uses art therapy to manage the fallout from her experience.
She said: "It was difficult to explain I suppose, I was supported throughout by the cancer team at Bishops Wood but, going through chemo is exhausting and at times I struggled to cope with it all."
Breast care nurse at Bishops Wood Hospital Caroline Collins was of particular help to Yasmin.
Yasmin said: "I went for an appointment during lockdown at the hospital and spoke with Caroline, and I talked to her about how I was feeling – well, as best as I could.
"She listened and advised me that I wasn't alone in feeling like this and that I should look at ways I could relax and not focus on what I was going through."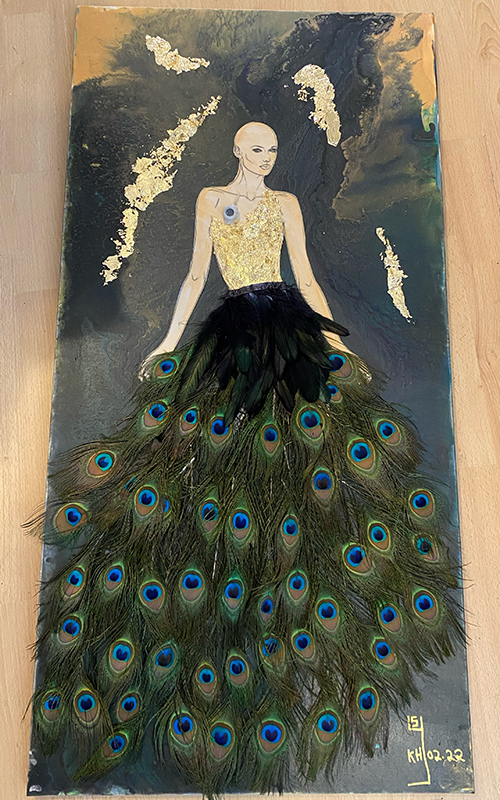 Nurse Collins introduced Yasmin to the west London cancer charity Maggie's who provide support for all those who suffer any form of cancer.
It was here Yasmin was offered an art therapy course after trying out some other services they offer which were not working so well for her.
She said: "I wouldn't say I had always been artistic – I liked art and it looked interesting, so I took the plunge.
"I fell in love with a technique called acrylic pouring.
"You take the paint and apply it to the canvas by pouring it, letting the colour puddle and pool – it looks just like a marble pattern when you are done."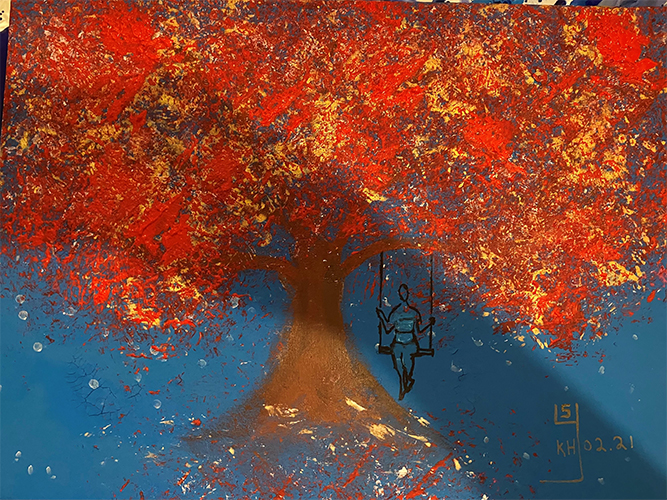 "I would show the nurses my artwork and they loved them
"Each piece has its own story and I got better as I did more, I could really feel a connection between what I was feeling and what was appearing on the canvas.
"I gained so much strength from doing this – it helped me process what was going on. I would recommend it to anyone who is going through a similar battle."
Staff at the hospital were so moved by her work that they plan to auction off a piece and donate the proceeds to cancer research later this year.
Yasmin said: "I cannot thank the team at Bishops Wood enough for what they have done to support me on this journey.
"From the consultants who diagnosed and operated on me, to Caroline and the other nurses in the cancer team."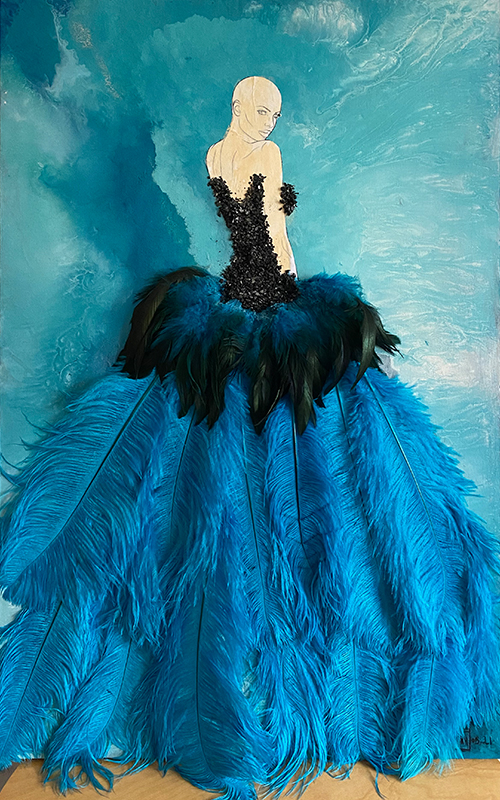 Through June and July she met with doctors at Circle Health Group's Bishops Wood Hospital who set out a treatment plan with long sessions of chemotherapy lasting till late December.
In February 2021 she underwent a successful single mastectomy at Bishops Wood Hospital where they cut out the cancerous lump.
She is now cancer free and is set to have reconstructive surgery after the mastectomy.
Yasmin was first prompted that something was wrong when watching ITV This Morning when a woman described her experience of breast cancer and ran through some symptoms.
One of these symptoms was a change in breast shape which Yasmin had noticed on her body as well.
She said: "It just goes to show how important being aware of the symptoms of cancer are.
"I was lucky that I did something straight away, and that meant I could get the treatment I needed.
"I hope that talking about my experiences goes someway to helping other women."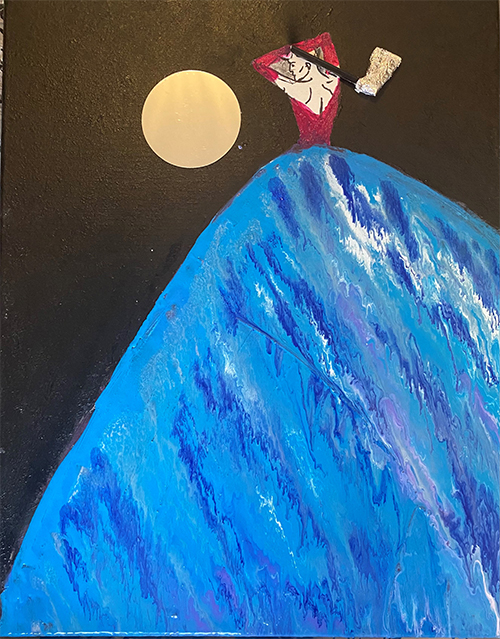 Yasmin's treatment at the Circle Health Group Hospital at Bishops Wood was covered by insurance that came along with her job.
To learn what breast cancer symptoms look like click here or book an appointment with your GP.