Holistic beauty is on the rise as women choose to go make-up free for 50 percent of the year, investing their beauty spend on skin care instead.
Research from Westfield's How We Shop platform has revealed that the nation is changing its approach when it comes to their beauty regimes, with a focus on skincare, health, and wellness beyond cosmetics alone.
Over half of women have revealed they are going make up free more than three days a week – an average of 172 days per year – as they turn to wellness enhancing skincare products as a priority.
The findings show that a happy life truly does make for happier skin, with a third (34%) of women reporting that stress has a negative impact on their skin.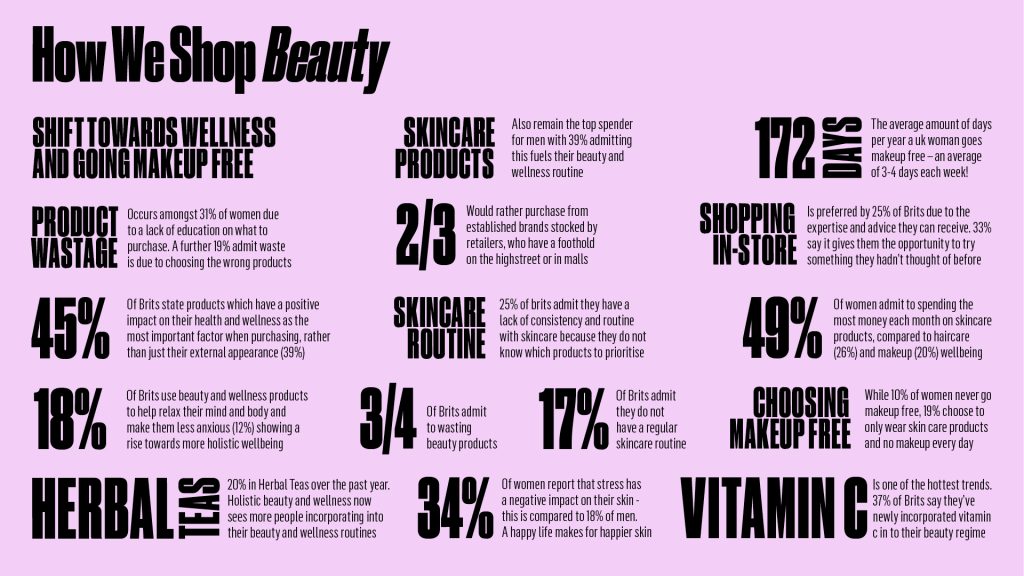 This is compared to 18% of men. Almost half of Brits (45%) also state that a positive and lasting impact on their health and wellness is the most important factor when picking their products, rather than simply the impact on their external appearance (39%).
Sarah Fearon, Head of Marketing UK at Westfield said: "Westfield's recent How We Shop analysis of UK shopping habits has uncovered combining wellness and beauty is a huge priority for consumers.
"We're noticing the growth of skincare thanks to growing desire for health-promoting and self-care products, and we are continuing to reflect the trend in our diverse range beauty brands and experiences.
"With over 80 diverse beauty and grooming retailers across our two London centres combined, we're excited to be hosting The Beauty Edit this March as part of our Beauty campaign which will be a dedicated space for visitors to discover feel-good products, participate in tutorials and get first hand advice from some of our leading beauty retailer experts."
The research, which comes hot on the heels of Sephora opening their first UK store at Westfield London this month, revealed that despite feeling cash strapped, half (49%) of women spend the most money on skincare products each month and are heavily influenced by brands' green' initiatives.
With almost half (41%) agreeing that they'd be less inclined to purchase from a brand that doesn't have sustainable practices such as plastic-free packaging. Despite this, three quarters (73%) of Brits admit to wasting beauty and wellness products, with the average wasted spend at £41 a year.
When it comes to trending products this year, Vitamin C leads the way with over a third (37%) of women saying they have newly incorporated the health boosting serum to their beauty regime in the past year. SPF also made the top 10 (21%), as well as cleanser (35%), retinol (18%) and essential oils (18%).
Looking at Brit's beauty and wellness regimes, over half of women (57%) have more than three products in their daily skin routine, compared to just under half of men (45%) who only have one.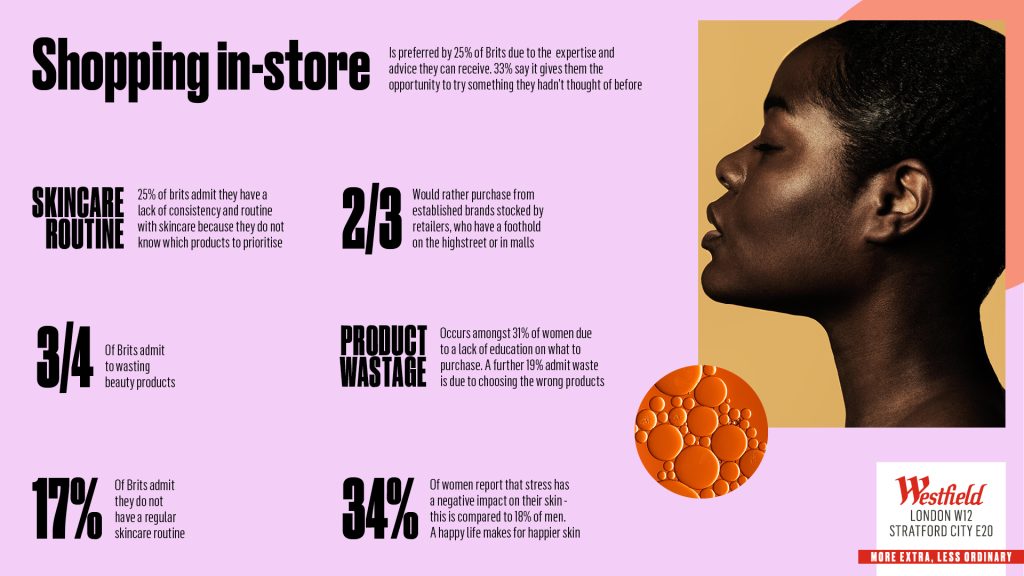 Despite the growing trend towards holistic beauty, a quarter of Brits admit they have a lack of consistency and routine with skincare as they do not know which products to prioritise, with 10% saying they have become overwhelmed due to social media.
Westfield has also teamed up with celebrity skin care expert Nilam Holmes to provide advice to beauty lovers on how to embrace the holistic beauty trend. She said: "As an expert with over 30 years' experience within the beauty and wellness industry, I'm so pleased that people are placing as much importance on wellbeing as they are with their visual aesthetic, as an approach to beauty, and that destinations such as Westfield reflect this with their diverse beauty offering.
"The research findings reveal that stress affects a third of women when it comes to their skin and this is something I see a lot with my clients, of all genders.
"Of course, products alone cannot combat stress on the skin, therefore I always advise a combination of lifestyle changes and skincare to support a more natural and healthier look. I love the trend for skincare and make-up now about enhancing our natural features – long may that continue."
To inspire those looking to perfect their holistic beauty routine, Westfield is hosting The Beauty Edit event this month. Taking place between 16th – 24th March at Westfield London, and between 23rd – 26th March 2023 at Westfield Stratford City, this one stop holistic beauty shop gives visitors the chance to explore, test and try the best that Westfield's Beauty, Health & Wellbeing retailers have to offer. Find out more at westfieldbeautyedit.com