The UK's first mental health café has opened in Ealing, offering clinical and non-clinical support for anyone aged five to 18 suffering a mental health crisis.
Circle, which opened in February, aims to ease pressure on A&E departments, by guiding young people and parents to access services and prevent individuals going into a crisis state.
The mental health crisis café has been developed through a partnership between the Hammersmith, Fulham, Ealing and Hounslow Mind charity (HFEH Mind) and the North West London CAMHS Provider Collaborative which is a collaborative of four NHS London Trusts.
Doctor Johan Redlinghuys, Clinical Director for North West London CAMHS Provider Collaborative, said: "Demand for NHS mental health services continues to increase and so by putting in place a specialist hub to support young people across north west London, we hope this will reduce pressure on A&E units and set a benchmark for other similar services across the NHS."
The North West London CAMHS Provider Collaborative has funded the café, which will operate as an 18 month scheme receiving regular monitoring throughout its use with a view to launch similar spaces in London boroughs.
The number of under-18s presenting to A&E with a recorded diagnosis of a psychiatric condition more than tripled between 2010 and 2018-19 and Circle could be the first mental health crisis café of many to open up in London.
Nana Owusu, 46, Director of Children and Young People's Services and Clinical lead at HFEH Mind, said: "When we looked at our data just from the first month and a half, we had just under 40 young people present and of that 40 the highest number were young girls between 14 and 16.
"There was self-harm, suicidality and there's a lot of bullying stuff coming up as well.
"We got a decent amount of young people from Black and Asian backgrounds which was really good to see because they wouldn't normally present in an early intervention prevention crisis service."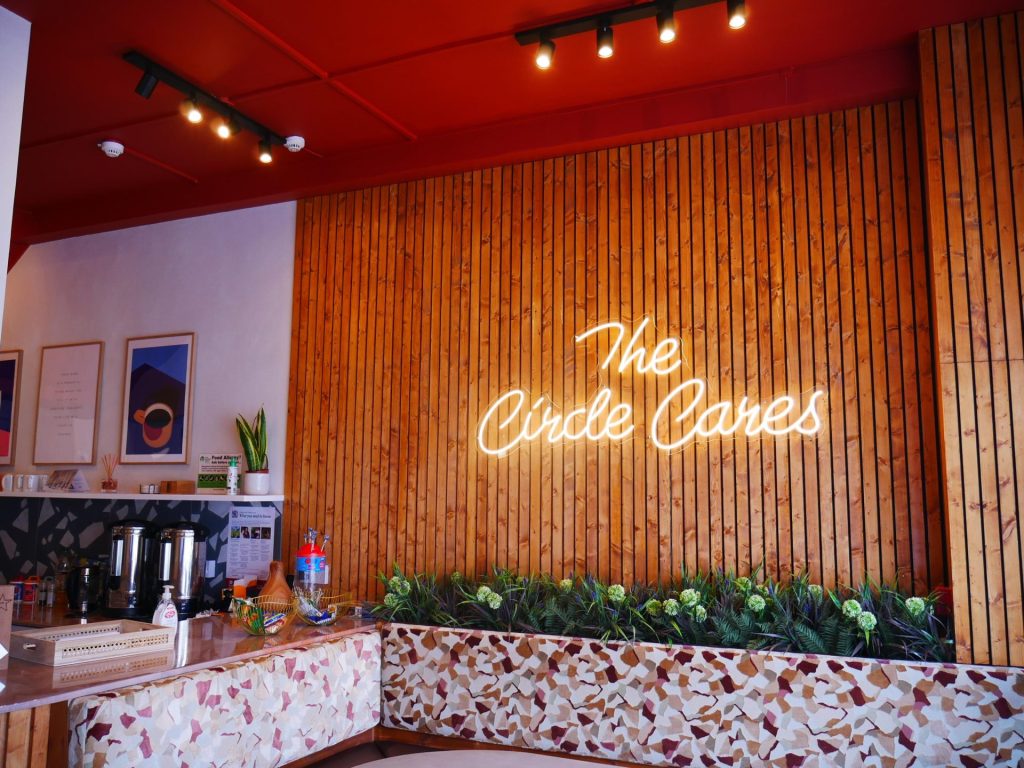 Circle is staffed with Crisis Support Navigators from HFEH Mind with facilities including cosy therapy rooms, a sensory room, spaces for workshops including music therapy sessions and a café area.
HFEH Mind collaborated with the Young Ealing Foundation organisation to design the café to be an appealing and accessible hub for young people and an alternative form of treatment for mental health issues.
Elly Heaton, 41, CEO of the Young Ealing Foundation, said: "This café is a really good step towards supporting young people.
"They don't have to be referred by a teacher or a parent or a social worker. They can just walk into somewhere which is a safe space, which is welcoming for them and they can talk to a trained professional without that kind of pressure that comes from a referral."
Eve Attridge, 16, a member of the Young Ealing Foundation and an Ealing Young Champion, said: "One of the ideas that we came up with was the name. We thought that the circle was quite a good name, you could just say I'm going to the Circle."
According to the Mental Health Foundation, 75% of young people in the UK aren't getting the help they need and 50% of young people who attended A&E services in London in 2021 in a state of mental health crisis were deemed not to require hospital treatment at that time and discharged home.
Ealing Young Champion Maya Yusuf, 19, added: "It's quite difficult to get the appointments and to get the kind of help you need.
"The Circle is somewhere where you're not waiting, you don't have to go through an application process, you can just turn up and its a space that's free and accessible."
Similar services run by HFEH Mind in north west London include Safe Space, a service for anyone nearing crisis point, which offers a drop-in, telephone and video-call services free of charge.
The café is located at 46 South Ealing Road and is open from 3pm to 11pm Monday to Friday and 12pm to 8pm on weekends and bank holidays.
Clinical experts at Circle can be accessed through drop-in services, booking an appointment through the referral form on the HFEH Mind website or by contacting the café on 0203 4750 060.
Feature image copyright: Harry Mear