The familiar buzz of your phone wakes you, stops you mid-chew, has you jumping out of the shower with shampoo fringing dangerously close to your eyes.
But it's not a message from a date that has your heart thudding, it's SpareRoom.
After six weeks, over 200 messages, and only eight viewings, I finally found somewhere to live in London.
And I'm one of the lucky ones. Thanks to the pandemic, I've spent the last two years living back home with my parents.
With my thirties dauntingly close (I'm 26), I applied for a Journalism Diploma which had me on SpareRoom a week before my journalism course started.
Foolishly, I thought it would only take me a week to find a place – nobody likes being proven wrong and how wrong I was.
I knew about the energy crisis and the cost-of-living crisis, but I had no idea just how bad the rental crisis was.
Ignorance is bliss but for me and a million others the struggle to find somewhere to rent in London is a stressful reality.
Rent prices have skyrocketed. As quickly as rooms are advertised, they're gone.
I was messaging people constantly and had to drop everything when those elusive viewing slots became available – not easy when my course is full time, but I was competing against hundreds of applicants so had no choice.
I quickly realised I had to pay for SpareRoom's upgrade, so I could message the 'early bird' rooms, otherwise they would be gone before I could message them for free.
Facebook became my best friend: I joined about five pages dedicated to people looking and advertising for rooms but every room even close to what I wanted had over 70 comments and no-one ever replied.
Though my course is based in Twickenham, Clapham was where I wanted to live, but my max budget of £850pcm was laughably inadequate when most of the rooms there were going for around £1,100 – something I could not hope to afford on the amount I'd saved.
While looking I saw some absolute shockers. There was one flat where an extra room had appeared thanks to flimsy plywood walls.
My hopes were dashed after I found somewhere for an absolute steal – before realising it was an illegal sublet.
Eventually, after many stressful tears and the fear I would have to continue my 4.5 hour round commute, I compromised: a £700pcm, Mon-Fri let in Twickenham, returning home every weekend.
But like I said, I'm one of the lucky ones.
So, why is there a rental crisis?
Matt Hutchinson, Director of Communications for SpareRoom, explained even before the pandemic the UK had a fairly serious housing crisis, but the pandemic only compounded it.
He said: "The last three years have created this perfect storm that are hitting renters so hard.
"It's just crazy, this unprecedented demand for rooms, we've never seen anything like it."
From their own research, SpareRoom has identified the root of the problem: supply is at a ten-year low.
With low supply, demand goes up, and prices rise with it.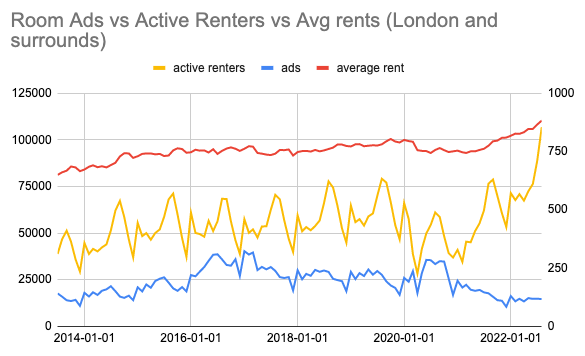 Hutchinson explained two years of lockdowns meant nobody was moving but now students and workers are flooding back to the city – where people aren't moving out of fear of having to pay higher rents.
Added to that, landlords have been leaving the market steadily since the government introduced new regulations around landlord tax.
Hutchinson said: "Almost half the landlords we polled this summer said they're either planning on downsizing or leaving the market altogether by the end of this year.
"The problem with that is that it removes supply from the market without supplying it from elsewhere.
"The government have a fairly open agenda to squeeze smaller landlords out of the market but they haven't so far found anything to replace them."
Introduced in 2017 Section 24, sometimes referred to as the 'tenant tax', stops landlords from claiming mortgage interest as a business expense and adds an extra 3% stamp duty charge on anyone buying a second house.
Hutchinson added since Brexit and the pandemic, the availability and cost of materials is expensive and hard, as well as labour for renovations, a whole combination of factors making being a landlord more complicated than it was ten years ago. 
He said: "It's too much work with too little reward."
Hutchinson said: "The government need to decide that the housing crisis is something that needs fixing in the long-term, there's nothing they can do in the next few months to fix this.
"We believe this particular situation will ease in time, but we will still go back to having a difficult housing market like we did before the pandemic.
"We need a cross-party serious grown-up approach to this to sort it out."
Hutchinson told me that across England there are around 21million empty bedrooms in unoccupied buildings. That's a lot of spare space.
He said: "If less than 3% of those decided to rent a spare room, that would create enough supply equivalent to the size of Manchester.
"Obviously, taking in a lodger is not for everyone, but we don't need everyone to do it.
"If we can convince some people to rent out a spare room it can help with supply, it can help keep the market stable and can help them with the cost-of-living, so that's one solution.
He added: "We (SpareRoom) are not a business that has a product to sell, we connect people, and while we can't create supply, we can encourage people to rent out their spare rooms."
SpareRoom recently came under fire for their marketing in undergrounds where they suggested the average person could earn £800 by renting out their spare room. 
The outrage came from the assumption £800 is the average rent price in London.
Anyone whose looked for somewhere to live will know just how wrong this assumption is.
SpareRoom removed the price but kept the adverts.
Advice for prospective renters
Anyone advertising a room is getting hundreds of responses so be as prepared as you can be, have all of your finances and papers ready to go.
If you're using SpareRoom, place a room wanted ad and put some information about yourself on there. It's a little thing that can make a big difference if someone is deciding whether to respond to you or not.
Get on Facebook. There are many pages dedicated to people looking or advertising rooms for rent.
Don't give up. I know from personal experience how demoralising looking for somewhere to live can be and I hope you find somewhere soon.