Dozens of LGBTQ+ and climate campaigners gathered in the City of London on Friday to protest ties between the British LGBT Awards and corporate industry giants.
The protesters called for the awards, held at The Brewery in Chiswell Street, to confirm it had dropped any support from the oil companies Shell and BP and to also drop support from HSBC, Santander, Macquarie Capital, Amazon and Nestle for alleged unethical business practices.
Shell and BP were initially promoted on the awards' website, but were removed after some nominees distanced themselves from the event, the Guardian reported on Thursday.
In a joint open letter, environmental campaign groups Fossil Free Pride and 350.org, and the DJ collective Queer House Party, said: "For these kinds of companies to be advertised at the British LGBT Awards represents a defeat for the LGBTQ community and an insult to everyone we stand in solidarity with internationally."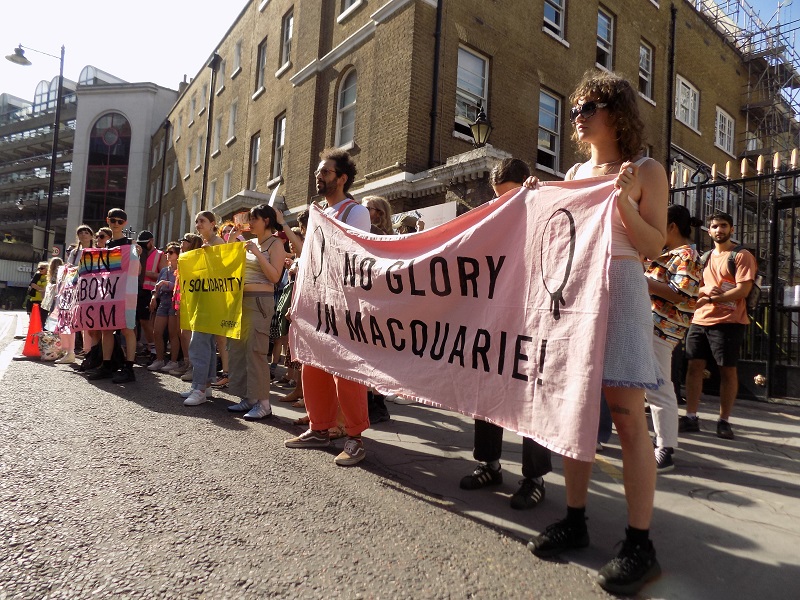 Among the nominees who withdrew include former Drag Race contestants Divina de Campo and Cheddar Gorgeous, journalists Freddy McConnell and Shon Faye, and comedian Joe Lycett.
In a separate statement, Fossil Free Pride said that while the awards had acknowledged its concerns, the protest would go ahead as planned.
In calling for a boycott to HSBC, Santander and Macquarie Capital, it said it hoped to pressure them to withdraw investments in projects linked to the fossil fuel industry.
The statement called them 'one of the biggest pillars of the fossil fuel industry' and said that without them, fossil fuel projects 'would be stopped in their tracks'.
Campaigners also pointed to reports of Nestle's historic links to forced labour in 2015 and water privatisation in Canada and the USA from 2018-19, and to allegations of dangerous work practices and low wages at Amazon.
A Shell spokesperson clarified that while Shell was not an official sponsor for the awards, it gained an advertising spot in the awards' brochure as part of its LGBT+ employee network Proud@ShellUK buying a premium table at the event.
The protest was structured as a street party and satirical 'alternative awards ceremony', with drag artists from around the city presenting and receiving 'awards' for these alleged practices on the companies' behalf.
Zack Polanski, deputy leader of the Green Party, spoke about Macquarie Capital's involvement with the Silvertown Tunnel, a proposed £2.5 billion road project connecting Newham to Greenwich.
He said: "It is vital that we are really clear, we cannot build new roads – Macquarie are essentially funding this and for them to be stamped across an LGBT Awards is an absolute disgrace, and we are here to say no.
"Newham has some of the most deprived people in our city and some of the highest proportions of ethnic minority communities – we know they are disproportionately affected by the climate crisis and the air pollution crisis."
When announcing the Silvertown Tunnel contract in November 2019, Macquarie Capital said: "Over the past 30 years, East London, both north and south of the river, has seen significant population growth without major investment in the area's road infrastructure.
"The local population is expected to increase further, increasing pressure on the 122-year-old Blackwall Tunnel.
"The new tunnel will provide more resilient transport links north and south of the river, it will reduce the amount of stop-start traffic as well as cut emissions from idling traffic."
Tommy Vickerstaff, UK team leader at 350.org, read out a statement from the Pacific Climate Warriors, which said: "In the Pacific, it is queer and trans people who carry the burden of the climate crisis the most; many blame us for the climate crisis and in the aftermath of disasters our communities are always at heightened risk of violence."
They said: "Solidarity with queer and trans people on the front line of the climate crisis is making a commitment to do everything you can to keep us on a pathway to below 1.5 degrees of warming and avert the most catastrophic effects of climate change.
"Sponsoring an award for LGBT people does not negate the damage done to us, our homes and our islands by your sponsorship and investment in fossil fuels."
Mike Jackson, co-founder of the campaign group Lesbians and Gays Support the Miners (LGSM), congratulated organisers on arranging the protest at short notice and said: "Corporate sponsorship always comes with a price tag attached to it – you know that; it's complete and utter, disingenuous pinkwashing."
The British LGBT Awards said it revised its supporters this year and will review its long-term strategy regarding future corporate sponsorships.
It said: "We've been really saddened that some of our incredible nominees and judges have decided to distance themselves from the awards, but we acknowledge their concerns and want to address them as best we can.
"While the supporters of the event were chosen based on their proactive approach and firm commitment to advancing equality, diversity, and inclusion among our LGBTQ+ community, we fully acknowledge the concerns that have been raised.
"We're grateful for those who have spoken out on such an important issue: sustainability and the ethics of who we choose to partner with to further the cause of LGBTQ+ equality."
A Nestlé UK & Ireland spokesperson said: "We work continually to create an environment where every one of our colleagues can bring their true self to work every day; that can only happen if our whole team feels that they can be open about who they truly are.
"Our LGBT+ network, which has senior board level sponsorship, has played a key role in helping to shape that.
"The entire organisation has bought into making the changes we need to our recruitment, onboarding, policy and processes; we know there is more to do but our colleague networks hold us to account."
A spokesperson for the Proud@ShellUK Network said: "Shell puts diversity, equity and inclusion at the heart of its employee culture and believes that a fully inclusive workplace allows our business to flourish.
"It's important to highlight this through our presence at events like this one, and it's regrettable that a few people have reacted so negatively, especially as we're committed to becoming a net-zero emissions energy business by 2050."
A BP spokesperson said: "We understand the organisers' decision, but of course this is disappointing for BP and our people – and more than 15,000 work for BP in the UK.
"At BP we promote an environment where everyone can be their best and true selves and feel like they belong, with no exceptions, all year round; that's why we were proud to work with the British LGBT Awards to celebrate individuals and organisations that share these beliefs and recognise diversity, equity and inclusion."
Macquarie Capital, HSBC, Santander and Amazon have all also been contacted with request for comment.
Feature image taken by Asher Gibson