Britain has changed its approach to domestic DIY to adapt with the cost-of-living, with pets taking priority in our home design, the rise of the utility room and the decline of the open plan emerging as the top trends, that's according to new research.
B&Q has released its 'A Slice of Home Life 2023' Report, revealing the top emerging themes for 2023, with 38% of Brits admitting they have restyled their home to make space for their pets' items and almost two in five have considered moving home to make more space for their pet.
89% of Brits say keeping energy bill costs down is important to them, meaning households are becoming accidentally more sustainable, while the utility room is the new middle-class 'must-have', with two in five describing it as the most useful room in their house.
Graham Bell, CEO at B&Q said, "Having lived through a tough year of economic uncertainty, it's interesting to see how we have continued to adapt our homes to meet our changing needs.
"This year, with many of us staying in and socialising at home more, we're continuing to evolve the way we live. Long gone are the days of rooms being used in their traditional sense, as we now look to create flexible homes."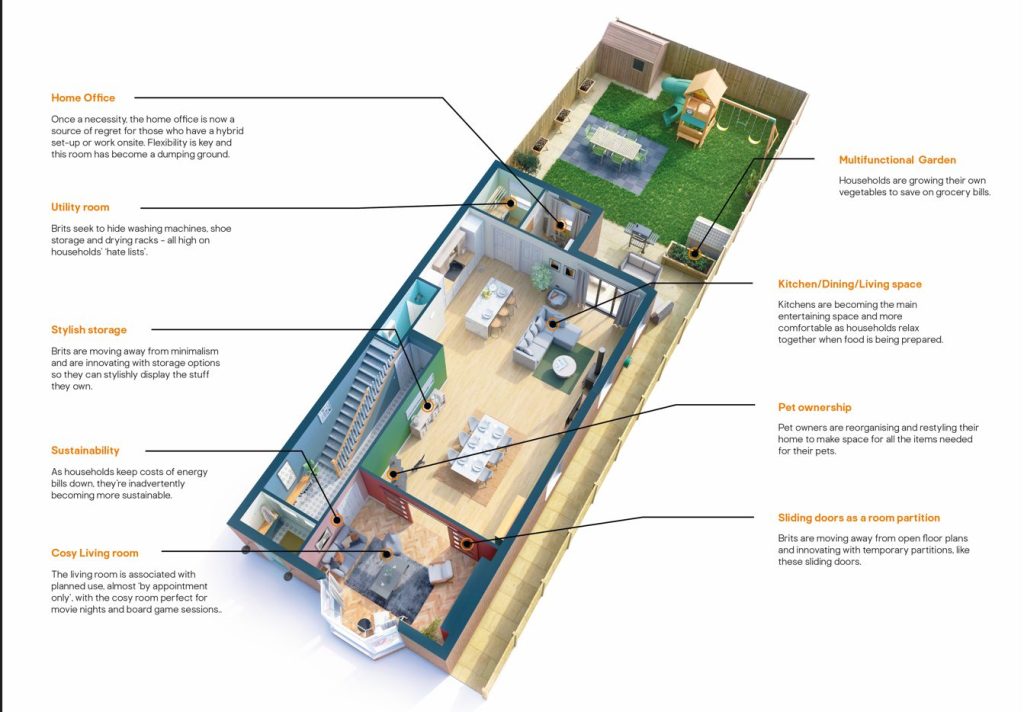 Whilst pet ownership has boomed over the last few years, accommodating them in our homes presents a challenge, with more than a third (38%) revealing they have restyled their home to make space for their pets' items. As well as restyling homes to suit individual needs, it's also the needs of our pets that we are factoring into our home design with over two in five (43%) admitting that their pet has a big impact on their interior and design decisions.
The research also unveiled that the new middle-class home 'must-have' is the utility room – with ​39% noting that a utility room would be one of their most important rooms if they had one.  With more pets, people and possessions crammed under one roof and with storage at a premium, the often overlooked, yet functional room is one of this year's must-haves.
With our homes continuing to serve as multifunctional hubs – from working, to entertaining, to enjoying quality 'me' time – Brits have become more innovative with ways to ensure their homes are more flexible. Rather than get the builders in, the new report has unveiled that over half of Brits now find the idea of temporary partitions, such as adding doors to divide up their open plan living area more appealing.
In addition, the report revealed the unlikely way households are becoming more 'accidentally sustainable.' With energy bills rising, most Brits say that keeping costs of energy bills down is important to them, which has resulted in households making decisions that have a positive impact on energy use, for reasons aside from protecting the environment.
Bell continued: "B&Q's 'A Slice of Home Life 2023' Report reveals the desires, regrets, and innovations of households to help inform how we can help customers with their future home improvements. With our ongoing focus on great value and convenience, we aim to make home improvement easier and more accessible for everyone."
The full report can be viewed on the B&Q website www.diy.com/change-made-easier