Voters in Camden will elect 55 councillors throughout 20 wards in next week's local elections on Thursday 5 May.
Two electoral wards and one councillor have been added since the last local elections in 2018.
Rather than the addition of two wards onto the existing 18, the electoral ward map was reworked to represent population rises in the borough.
The electoral wards of Cantelowes, Camden Town with Primrose Hill, Frognal and Fitzjohns, Kentish Town and Swiss Cottage have been refined.
They now comprise Camden Square, Camden Town, Frognal, Kentish Town North, Kentish Town South, Primrose Hill and South Hampstead.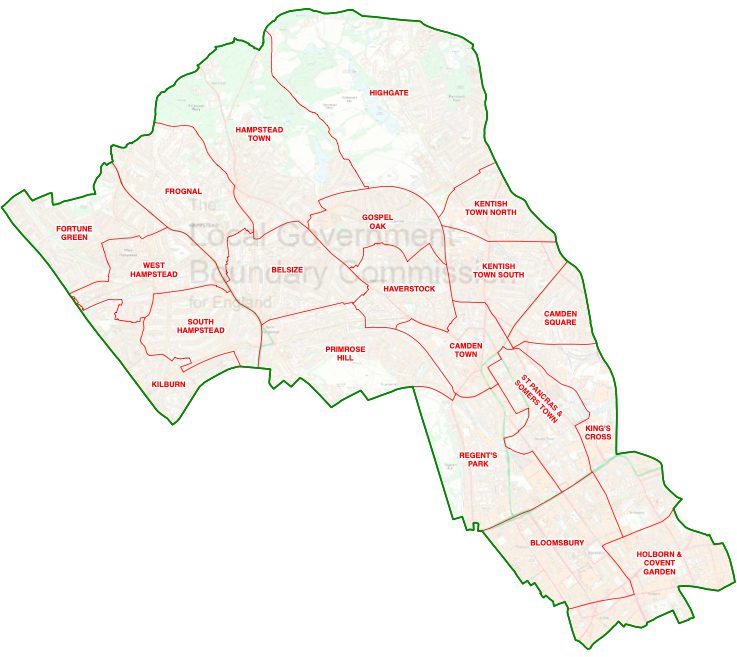 The Local Government Boundary Commission for England recommended these changes so that all councillors would represent around the same number of residents.
The proposed changes were consulted amongst residents, disability groups, local stakeholders Camden's MPs, councillors and political parties between November 2018 and September 2019.
Parliament agreed the changes in October 2020 and they formally took effect on 1 December 2021, making this the first election with the new wards.
The Labour Party currently holds the power in Camden council with 42 Labour councillors.
This includes Georgia Gould, council leader since 2017, who is standing for councillor in Kentish Town South on Thursday.
Currently there are seven Conservative party councillors, three Liberal Democrat party councillors and one Green party councillor in the council.
The Labour, Conservative and Liberal Democrat parties will all be represented on ballots in each ward.
The Lib Dems currently have two councillors in Belsize and one in Fortune Green, so these are the wards to watch for them.
The Green party has 12 candidates standing across 10 wards including Camden Town, Frognal, Highgate, Kentish Town North and South, Kings Cross, Primrose Hill and Regent's Park.
Highgate Ward is important for the Green Party as Sian Berry, the former Green national leader currently sits as a councillor, and the party has three candidates standing on Thursday.
There are some independent candidates running for councillor in the borough: Chrislyn Pict in Gospel Oak, Mohamed Farah in Haverstock, Patrick McGinnis in Holborn and Covent Garden, and Phil Cowan in Primrose Hill.
Three candidates from The Workers Party of Britain will run in St Pancras and Somers Town while the Trade Union and Socialist (TUSC) party has a candidate in both Kentish Town North and South.
A candidate for Let London Live, a party which opposed lockdowns and Covid restrictions, in will stand in Regent's Park.