Keir Starmer and Sadiq Khan spoke at the Labour Party's local elections campaign launch in Barnet earlier this month as Labour have made it their top target in London.
Going into the election on Thursday 5 May, the Conservatives hold 36 of the 63 seats, with Labour holding 23.
Barnet will elect 63 councillors again, however under new electoral arrangements there will be new ward boundaries.
The number of wards is increasing from 21 to 24, there will be 15 wards with three councillors and nine wards with two.
Barnet Council election history
Barnet is looking to be a huge battle ground once again, similar to in 2014 when the Conservatives marginally won by two seats.
In the last local elections in 2018 however, the margin was much bigger with Labour winning 25 seats and the Conservatives winning 38 seats.
Conservatives have had a stronghold on Barnet since its creation in 1963, with a period of no overall control between 1994 and 2002.
During 1994 and 2002 Labour governed with the support of the Liberal Democrats but the Tories remained the largest single party in Barnet.
Labour efforts
The campaign launch, held at Barnet Southgate college, High Barnet and was attended by the Labour leader and Mayor of London on 8th April.
According to The Evening Standard, it is estimated that around 15% of Barnet's population is Jewish and the campaign launch was focused on tackling Labour's anti-semitism crisis.
Shadow chancellor Rachel Reeves spoke to Jewish News, and said: "The survey done by the Jewish Labour Movement about the direction Keir Starmer is taking the party in.
"It was really encouraging to see the results."
Barnet Labour announced their manifesto that sets out a vision to put sustainability and communities at the heart of what the council will do if they win.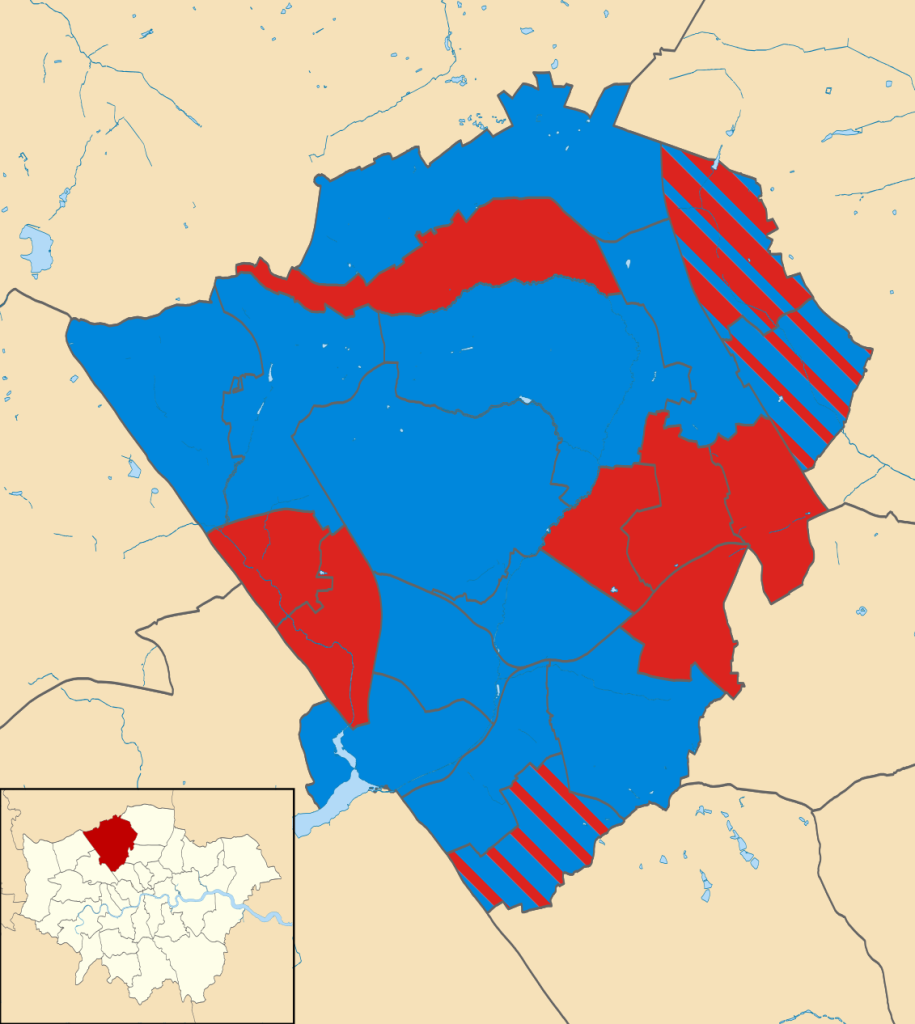 Conservative stronghold
The Conservatives are pushing local issues such as council tax, rubbish collection and development of greenbelt land to see off Labour's challenge.
Tories have frozen council tax in 2022/2023, one of only seven councils to do so, to encourage people to vote for them.
Within their manifesto Barnet Conservatives highlighted that Labour-run neighbouring councils have switched to fortnightly bin collections while Barnet has retained weekly collection.
Barnet Liberal Democrats and a series of defections
In 2018, the Barnet Liberal Democrats lost the only seat they had, but since then there have been a series of defections changing the political landscape.
Both Labour councillor Jessica Brayne and Conservative councillor Gabriel Rozenberg defected to the Lib Dems in 2019.
Furthermore, Shimon Ryde left the Conservative Party in May last year to become an independent candidate while Labour's Jo Cooper resigned to focus on her work at the NHS.
Earlier this month, Conservative councillor Helene Richman who citied the Tory record on living standards and inequality defected to the Lib Dems.
The Barnet Lib Dems are focusing on the environment in their manifesto helping to build a green, clean, safe and healthy community.
Barnet demographics
Barnet is the largest borough in London by population with an estimated 400,000 residents and is continuing to grow.
According to 2011 Census, 64.1% of the population of Barnet is White, 4.9% are Mixed, 18.4% are Asian, 9.2% are Black or Black British and 4.9% are Other ethnic groups.
There are 143 polling stations and the total eligible electorate for the Local election in Barnet is 256,900.
To find your closest polling station, enter your postcode on this website.
Featured image credit: Philafrenzy via Wikimedia Commons under CC BY-SA 4.0 license