Islington Labour leader Kaya Comer-Schwartz attributed her party's 'landslide victory' to 'hard work' after it lost only three of 51 seats to retain a majority. 
Labour won seats in every ward of the borough apart from Highbury, which saw the Greens take a clean sweep.
Cllr Comer-Schwartz, who was re-elected to the Junction ward, took to the stage after her party's win to thank voters.
She said: "We have won a fourth landslide victory, something that has only happened in this borough once before.
"We will never forget that it is a privilege to be your councillors.
"It hasn't happened by chance, but because of hard work and our intense focus on creating a fairer Islington."
She praised her party's commitment to tackling unemployment, food poverty and the climate crisis in the last four years but said 'there is so much more we need to do'.
Cllr Comer-Schwartz promised her party would build hundreds of affordable council homes and get 5,000 people into employment by 2026, along with spending £10 million to repro-fit council homes.
Labour bested its 2018 local election performance by one seat, aided by Cllrs Ilkay Cinko-Oner, Heather Staff and Nurullah Turan becoming the first to represent the new Laycock ward.
.
Laycock, which is bounded by Holloway Road and Liverpool Road, brought the total number of wards up to 17.
Highbury had the highest turnout of any ward as 44.74% of eligible voters cast their ballot.
The Greens won all three seats on offer in Highbury, with party leader Cllr Caroline Russell elected for the third consecutive time alongside newcomers Benali Hamdache and Ernestas Jegorovas-Armstrong.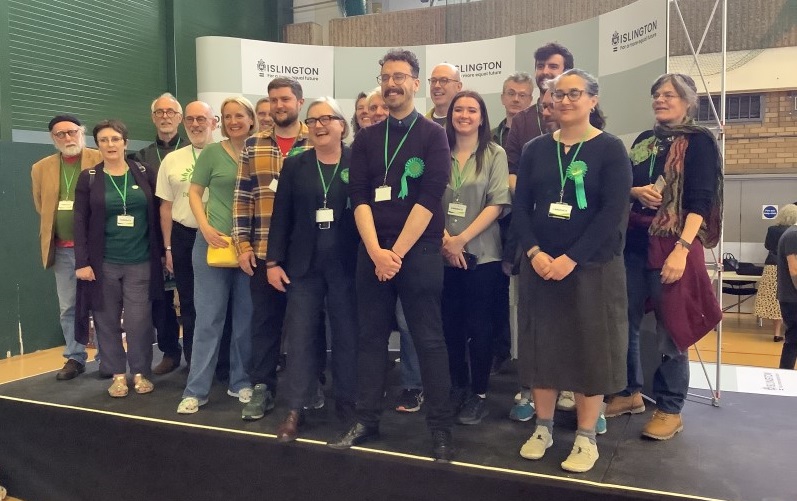 Cllr Russell, who was the only Green councillor in Islington during the previous term, said: "I just can't explain how happy I am to say that I have colleagues on the council. It's been eight years on my own and I wouldn't wish that on any councillor.
"I want to thank the residents of Highbury who have put their trust in us. That's a weight we take very seriously and we will continue to be a constructive opposition to Labour."
She explained her party would aim to do its very best for Highbury.
Labour Cllr Dave Poyser received the most votes of any candidate with 2,453, only three more than fellow Hillrise representative Cllr Michelline Safi Ngongo.