The road to Twickenham starts this weekend for many grassroots clubs, with the first round of the inaugural Papa Johns Men's Community Cupkicking off on Saturday. 
Fixtures will be played throughout April before culminating in Community Game Finals Days on 30 April and across the weekend of May 6 and 7.
Almost two thirds of clubs in the men's RFU leagues entered the new cup competition, which has been developed after players said they would prefer a shorter league season followed by a cup competition. This was part of the season restructure to help increase playing numbers.
Terry Burwell, RFU Council Member, Hampshire, and Chair of the RFU Adult Competitions Management Sub-Committee said: "The Papa Johns Cup is the exciting opportunity for clubs and players to create unique memories on the road to Finals weekends at Twickenham and other great venues.
"Involving over 500 clubs in 24 competitions, the next six weeks of Cup rugby will match old friends and new rivals in both national and regional competitions…the road to glory starts this weekend."
The men's draw, which sees over 500 clubs competing across 24 competitions, has thrown up some tasty derbies as the cup format looks to renew old rivalries and to create some new ones.
Exciting match ups have already been seen in the Papa Johns Women's Cup competitions, which began in September and are now reaching the latter stages.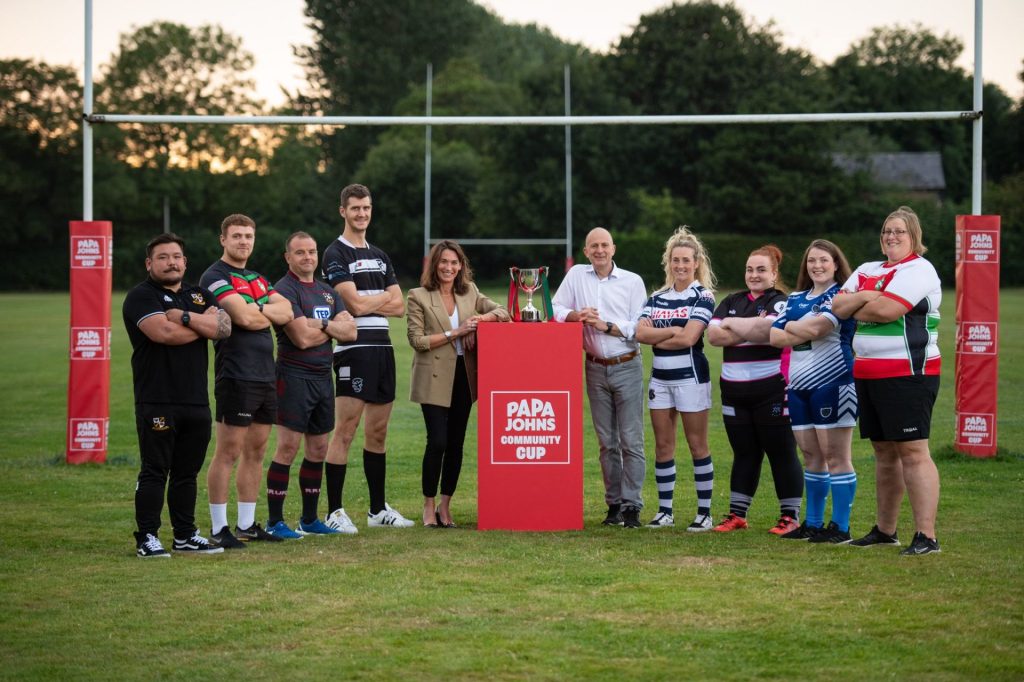 Ben Lowe, Player Experience Director at the RFU, added: "We recognise this season has been challenging for some clubs, but the new Papa Johns Community Cup is intended to create a crescendo at the end of the season for the community game.
"We are looking forward to seeing many clubs facing new opposition, along with others re-igniting local rivalries in a race to get to the finals at Twickenham or other prestigious grounds around the country.
"We wish all the teams the best of luck as the men's competition kicks off this weekend, and the women's competition reaches the latter stages."
With the Red Roses taking on France on Saturday 29 April, Twickenham is set for an action-packed weekend of international and grassroots rugby.
The Papa Johns Men's Regional 1 Championship Final and the Papa Johns Women's Championship play-off, Women's Intermediate Cup and Women's Junior Cup will all be played at the home of England Rugby on Sunday 30 April.
Traditionally held at community clubs, this is the first time that women's community finals will be hosted at Twickenham.
The Papa Johns Women's Intermediate Plate and Girls U18 and U16 Finals will take place on the same day at Sixways.
The following weekend, 6th and 7th May, sees another bumper fixture list with the Papa Johns Men's Regional 1 Plate, Shield, Bowl and the Boys U18 Cup Finals being held at Sixways on Saturday, before Twickenham hosts the club season finale for the Papa Johns Men's Regional 2 Championship Finals and the Men's Counties 1, Counties 2, Counties 3 and below finals on Sunday.
The Papa Johns Men's Plate and Shield Finals (Regional 2; Counties 1-4) will also be held over the weekend of 6th and 7th May at Darlington Mowden Park (North Finals) and StoneX Stadium (South Finals).
Title partner, Papa Johns, is offering competing clubs exclusive benefits including 50% Papa Johns pizza discount codes specific to each club for members, friends and family to enjoy.
On each redemption, Papa Johns will make a donation back to that community club.
Rob Payne, Managing Director Papa Johns UK, said: "It is a fantastic opportunity for Papa Johns to be able to support grassroots rugby nationwide.
"We'd like to wish all clubs taking part the best of luck and we're looking forward to seeing who gets to enjoy the incredible occasion of playing at Twickenham, Sixways, StoneX Stadium and Darlington Mowden Park on Papa Johns Community Cup Finals Day."
For more information on the draw, format and clubs competing from your area, visit the Papa Johns Community Cup page