Karen's Diner arrives in Islington following its tremendous success across Australia and other UK locations.
If you haven't heard about Karen's Diner before, it is notorious for deliberately providing terrible customer service.
In the past year, the restaurant has made its mark on social media, particularly on TikTok, where it received more than a billion views for its poor customer service.
And while the concept of the diner is apparent to the majority of its guests, the majority of viral content is of individuals who lack understanding of the concept.
Calum, 19, said: "Most people who come in here know the concept. It is only when some people bring in their grandparents which is very funny. That happens at least a couple of times a week."
So, you might be wondering why this restaurant is called Karen's Diner? Well in recent years, the term "Karen" has become an internet sensation and alludes to an entitled white woman.
The concept of the diner is fairly straightforward.
As soon as I entered, I was given the middle finger and asked if I was a real-life journalist or a blogger who plays around online.
Any guest who walks in gets at least a couple of insults before they are seated.
They also make sure that every customer reads their in-house rules which state "no racist, sexist, homophobic or ableist comments or slurs will be tolerated".
The staff of professional actors makes every effort to ensure that your visit is truly unforgettable.
I was then seated and glanced around the restaurant.
The evening began with a game of spin the wheel, with a variety of public humiliations it could land on.
It landed on animal impressions, meaning one of the customers was required to crawl around the restaurant on her knees, imitating a dog.
While I was seated I was given crayons and a paper hat which said "Billy no mates / needs a watch."
The staff made sure to dash out insults at me because I was seated alone.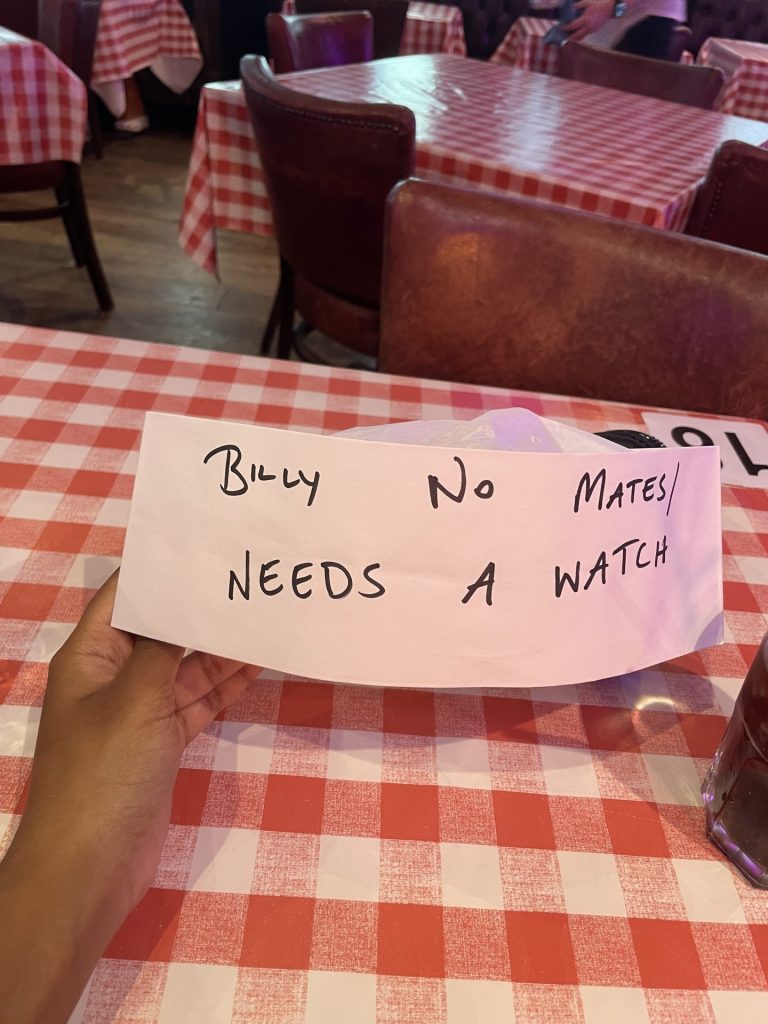 For some people who attended the restaurant the joke went a bit too far for them.
"We had one teenage girl who cried. We've also had a couple of people who were near to tears," Calum said.
Now, let's talk about the most important thing – the food, which is classic American diner.
Karen's Diner offers a wide variety of dishes that will make your taste buds dance with joy, including juicy burgers and crispy fries as well as milkshakes and scrumptious desserts.
I opted for the BBQ wings and fries which was delicious.
So, if you're looking for a place to hang out and get insulted, Karen's Diner in Islington is the place to be.
With its great atmosphere, food, and games, it's guaranteed to be a memorable experience.
Grab your friends and family head on over.