Whether you're from Mexico and missing home, have just got back from a Mexican holiday and are craving one final margarita, or you're just a fan of the culture and want to explore a different side of London, this guide to all that is Mexican in the capital will see you right.
London is a melting pot of cultures, which means there are plenty of opportunities to enjoy authentic Mexican food, view incredible pieces of Mexican art, and even spot some ancient Mexican artifacts.
So, leave your sombreros at home for this one, but prepare for a taco-filled whirlwind tour of the best of Mexico, right here in London.
Brunch at Mestizo
No Mexican day out would be complete without some incredible food and Mestizo is our pick for the ultimate Mexican breakfast.
This unassuming restaurant sits next to its own Mexican grocery store, within an easy walk of Euston Station.
During the week they have an à la carte menu for breakfast, but on Sundays they pull out all the stops with a Mexican brunch buffet.
The buffet is so good that we strongly recommend making your Mexican day a Sunday.
The buffet is all-you-can-eat and includes desserts and soft drinks as well as your choice of main courses.
At £30 per person, it's not the cheapest in London, but you really do get a bargain for the price.
The food is authentically Mexican, you won't be finding fajitas or burritos here.
Instead, you'll enjoy dishes like slow-cooked birria, a lamb stew spiked with ancho chillis, menudo, a pork belly tripe dish with smokey guajillo chili and lots of tomatoes, and rajas con crema, deliciously sweet strips of poblano peppers drizzled with a creamy corn sauce.
Explore Mayan Artifacts at the British Museum
Before Mexicans came the Mayans, a group of people so revered that they've inspired endless parts of popular culture.
Gonzo's Quest is a slot game that takes direct inspiration from a Mayan adventure, asking you to accompany Gonzo as he seeks out forgotten gold from this ancient civilization.
If you want to warm yourself up for the next part of the day then playing a few rounds of Gonzo's Quest on the tube is a great idea.
Once your gaming is over, it's time to hop off the tube at the British Museum.
There are very few collections of Mayan artifacts in the world because they're so incredibly ancient.
However, the British Museum has been working on the Maya Research Project for many years and has created 3D models of Victorian excavation sites.
This means you can virtually explore sites that were uncovered hundreds of years ago.
Snack on Tacos at El Pastor
Before the final stop of the tour, it's essential to try out a foodie heaven spot at London's Borough Market.
As well as being heaven for anyone who loves great food from any nationality, Borough Market is also home to El Pastor.
This Mexican spot is more than happy for you to pop in for just a couple of tacos, which makes it the perfect speedy addition to our Mexican day.
We strongly recommend getting one or two of each of the tacos on offer.
They source their produce from the market and regularly change their menu, so you can be sure you're getting the freshest tacos in London.
Visit the Mexican Geniuses Exhibition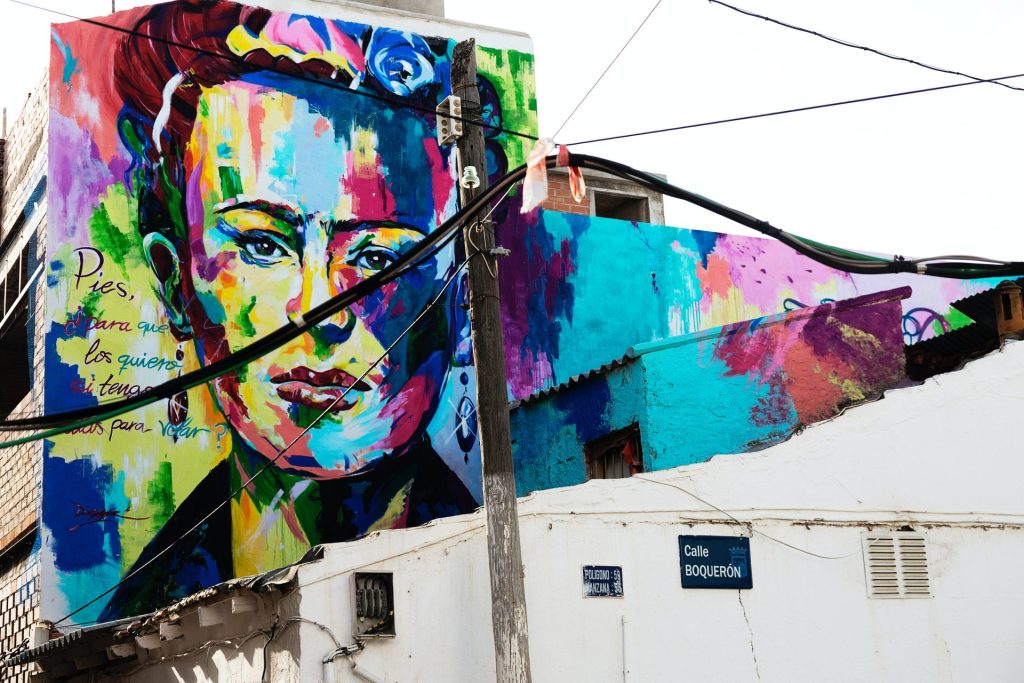 Immersive art exhibitions have been all the rage lately, with dozens taking to London's warehouses to allow guests to step into the world of the artists they love.
The Mexican Geniuses Exhibition promises to be just as exciting as any of the competition, but with the added bonus that you'll get to see works from not just one, but two of the most important artists ever to come out of Mexico: Frida Kahlo and Diego Rivera.
Using video mapping technology, the makers of the show have been able to create a 360-degree experience of a handful of Frida and Diego's most prominent paintings.
You'll be able to step inside Frida's 1940 Self Portrait With Thorn Necklace And Hummingbird, watching the brushstrokes appear before your eyes and seeing the whirr of the hummingbird's wings.
For the art purists, the team have also secured several actual artworks from both artists, meaning that you can enjoy the immersive experience, alongside the actual pieces.
The exhibition opens in May of this year, with no finish date set as of yet.