2022 has seen celebrities like Davina McCall and Louise Minchin leading candid open talks about the impact menopause has on a woman's life, body and mental health.  
Whilst British women are more openly talking about hot flushes, brain fog and how it feels to be in the "second spring," the conversation has also been noticed in Parliament.
Hansard Reports, which is a record of everything said in Parliament, show that the use of the word "menopause" has gone from zero to 400 in the last six years.
The word had never been mentioned in the House of Lords before 2022 and in the years between 2010 and 2017 it was not uttered in the House of Commons.
Taking a longer perspective, it seems that the British public becoming more comfortable talking about menopause has raised the issue in Parliament.
Since 2019, use of the term has increased around 580% across the House of Commons. 
Lesley Salem, founder of Over the Bloody Moon an organisation who want to remove the stigma around menopause for individuals and organisations said: "There's a fantastic amount of energy and activity happening in Parliament being driven by Carolyn Harris and Marie Caulfield via the Menopause Task Force.
"The UK is leading the way globally on menopausal support and whilst there is still a way to go, it's a great start.
"Of course, we'd like to see the Government follow through much quicker on it's promises – HRT pre-payment certificate to be launched before April 2023, more investment in medical research and women's health, as well as better guidance for schools on how to teach menopause."
Indeed, data from Ipsos taken in October supports Salem's claims that the UK is leading the way on talking about it.
65% of the 1,000 British participants who took part in the Ipsos study said they were comfortable talking about menopause compared to the global average of 53% when asked the question "how comfortable, if at all, do you feel talking to friends about this subject?"
This shows that Britain, tied with India, is more likely to be comfortable talking about menopause and it is clear this trend has weaved its way into our parliament.
Analysis shows that the word is mentioned most frequently in Parliament on World Menopause Day. 
Other mentions of the word touched on less relevant topics, using debates as a gateway to talk about other other medical issues such as osteoporosis and general shortages within the NHS.
Diane Danzebrink, the founder of menopausesupport.co.uk launched the #MakeMenopauseMatter campaign in Parliament in October 2018, a factor in explaining why the word was mentioned for the first time in over two decades that year in the House of Commons.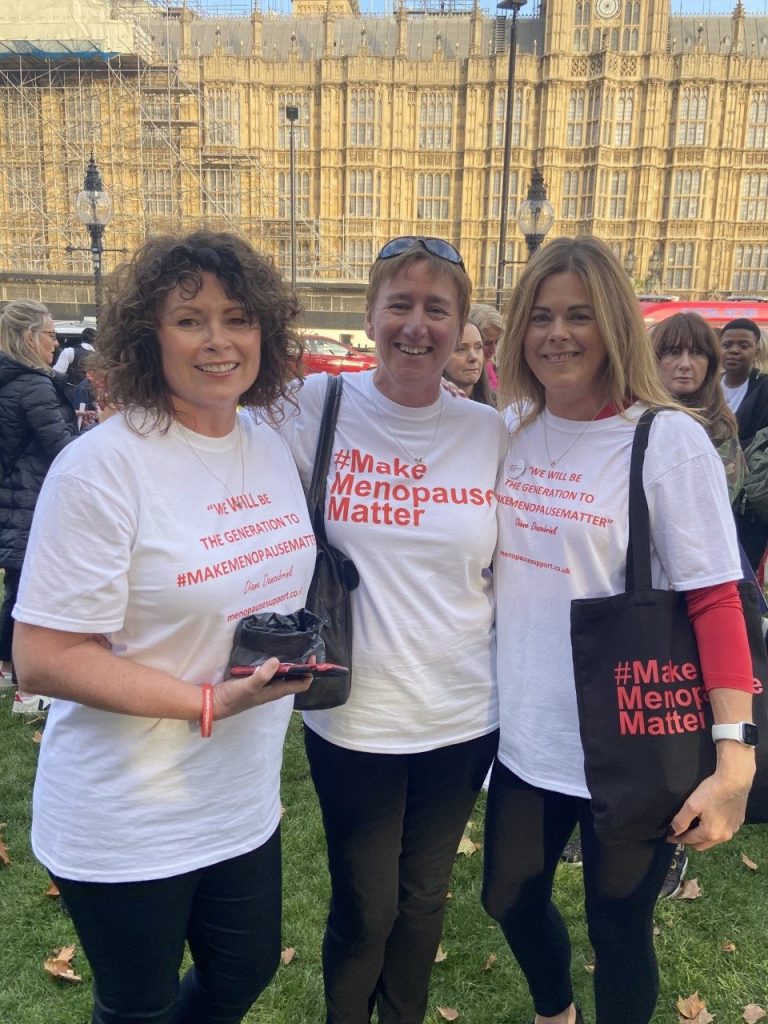 Danzebrink said: "Since then, I have been delighted to see menopause on the parliamentary agenda more often and to be able to speak to MPs and ministers about what needs to change.
"These discussions are ongoing and whilst I would like to see change happening faster it is encouraging to know that we will be the generation who made menopause matter."
The conversation around menopause has translated into having menopause added to the curriculum in schools in England and Scotland and the decision that all medical students will learn about menopause from 2024.
Speaking about this, Danzebrink said: "These are certainly steps in the right direction but there is always more that can be done which includes mandatory training for all our GPs and practice nurses, guidance for every workplace and to have a national menopause awareness campaign to educate and inform the public. 
"These discussions are ongoing and whilst I would like to see change happening faster it is encouraging to know that we will be the generation who made menopause matter."
A spokesperson from the House of Lords said that parliament has adopted a more open culture around menopause recently with the creation of menopause toolkits for managers and employers. 
This is a potential factor in why the word has been mentioned for the first time in the House of Lords this year.
The spokesperson said: "The toolkits also include information about workplace adjustments to support those who may be impacted at work and advice about creating a culture where colleagues feel comfortable talking
"As an employer we encourage colleagues to have positive and constructive conversations with their line managers about adjustments that they might need in the workplace."
The Department of Health and Social Care and individual MPs were contacted to get their explanation of the data but did not respond.
Featured Image Credit: Menopause Matters