As the UK marks Mental Health Awareness Week this week, the need to improve access to mental health support and reduce waiting lists for care is ever-more at the forefront of our minds.
One particular category of those requiring help is young people, with NHS Digital figures revealing that 18% of seven to 16-year-olds and 22% of 17 to 24-year-olds had a probable mental disorder in 2022.
A further study led by University College London the same year found that the proportion of young people struggling with poor mental health has almost doubled since 2007.
In order to tackle this rise, innovative solutions are needed – and a south London branch of a leading mental health charity thinks it may have an answer.
In a pioneering new scheme, Hammersmith, Fulham, Ealing and Hounslow Mind (HFEH Mind) is offering 13 to 18-year-olds a free premium subscription to Wysa, an artificial-intelligence (AI) powered chatbot that can provide 24/7 mental health support.
Recently launched, the scheme is being rolled out across the charity's network of secondary schools and colleges and in their crisis prevention cafe, Circle.
The charity hopes that the rollout will help change the landscape of early preventative care for young people in the region.
'You can't ask a stupid question to a robot'
Emma Taylor is the Children and Young Peoples Clinical Lead and Clinical Safety Officer at Wysa.
She first learned about Wysa in a journal article whilst working as an NHS nurse in children's mental health services six years ago.
"I was getting frustrated by the fact that young people don't want to attend a traditional adult model of care where they have to miss school to come to an hour-long appointment, sit in a room with a stranger and have a very intense conversation," said Taylor.
Taylor said Wysa was sitting in the general wellbeing space when she reached out to them expressing her desire to use it as a preventative mental health tool.
"I quickly learned that young people very much enjoyed being able to talk to the chatbot and that you can't ask a stupid question to a robot."
"Knowing there isn't a person on the other side removes all judgement from a conversation."
Meeting young people in an 'online world'
A national survey published by Wysa in March revealed that 78% of young people said they'd rather speak to an app than to their teachers, with a third preferring to turn to TikTok when faced with challenges.
The findings weren't a surprise to Taylor, who said: "We found that almost half of young people got their mental health advice from their friends and I was like, yeah, but their friends got their advice from TikTok."
She went on to explain that Wysa has been used in a couple of different settings globally, one example being a collaboration with Cincinnati Children's Hospital on a version of the app to help with Covid-19 related anxiety.
The current rollout at HFEH Mind, however, is the first children and young persons rollout for a service, she said.
"We needed to take mental health services from an adult model of care that has kind of been forced to fit children into recognising that young people spend an awful lot of time online," said Taylor.
"Rather than fighting we just needed to meet them where they were most comfortable, which ultimately was in an online world."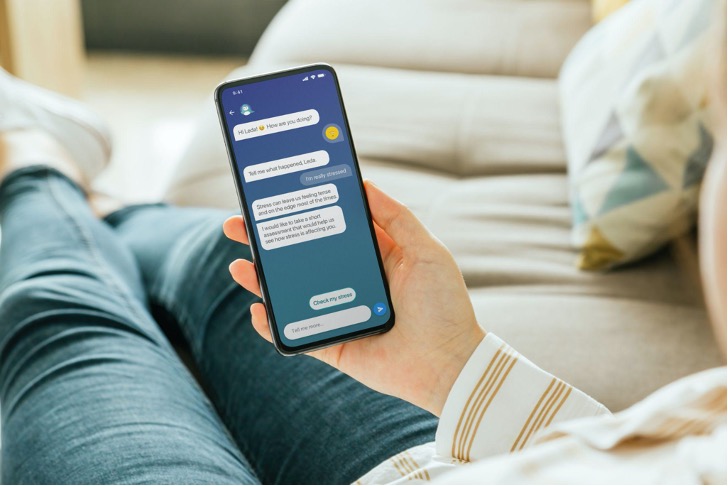 Determining suitability
All referrals to the scheme are screened by a clinician or mental health nurse, although according to Anya Aggarwal, a senior assistant psychologist at HFEH Mind who is leading the rollout, it may not be suitable for everyone.
"Wysa isn't a clinical service so we need to ensure that anyone who is above risk in terms of thresholds is being supported by someone else, for example we work with NHS Children and Adolescent Mental Health Services (CAMHS)."
If their application is approved, patients will then receive a code to access the app and be allocated one of ten trained practitioners whose job it is to check in with them every week.
Any concerning content, such as mentions of self harm, suicide ideation or abuse, is flagged automatically and can be managed by the team appropriately.
Although the team expects regular calls and clinical record keeping to stop around eight to 10 weeks after referral, those using the scheme will continue to have premium access to Wysa for up to a year.
Patients can also re-refer themselves or have their case extended by the team if they feel extra support is needed.
Tailored with young people in mind
Ultimately, the team really cared about making sure that the app was as approachable for young people as possible.
Although anyone can download Wysa from the app store and access its resources – company figures say the app has more than 6.5 million users worldwide – Aggarwal explained that the version commissioned by Mind has been specifically tailored with around 150 tools that young people can use.
"The reason why we find it so appealing to roll out with schools in the local area is the element of accessibility," she said.
"Rather than something happening in the middle of the night and a young person not being able to speak to a service as the majority are only open for emergencies, Wysa can help a young person deal with any issues immediately."
In designing promotional posters for the scheme, the charity also drew inspiration from 10 to 19-year-old volunteers from the local community whom they call their 'Young Advisors.'
According to Taylor, Wysa is also not like ChatGPT, the AI chatbot developed by OpenAI that has been making appearances on the news agenda since it was launched in November last year.
"With ChatGPT, the AI creates itself but with Wysa clinicians have written all the responses and it allows us to take the kinds of things we used to give as worksheets in sessions and make them interactive on the phone," Taylor added.
Normalising mental health
When asked what they'd most like to see happen in the future, Taylor said: "I would like to see a mental health app be as commonplace on a mobile phone as a social media app.
"We put so much emphasis into our digital lives, be it for online banking, accessing apps or using a Fitbit, for example.
"I believe that mental health should be as common as all of those, without stigma or judgement.
"It should be normal that we all access wellbeing and make it part of our daily lives and routines because that's how we'll create a sustainably mentally-healthy population for the future."
Aggarwal agreed, adding: "I'm also really excited about the early prevention side of the scheme.
"Instead of saying a young person must be presenting in a particular way to receive a referral, the app makes things really flexible. All they need to have is a smartphone."
Find out more about the scheme on the HFEH Mind website.