During her visits to Italy, the Queen always showed her affection and interest in Italian art and culture.
Compared to other countries she visited several times, the Queen only visited Italy five times, five and a half as some royal experts say, but her affection for Italian culture is undeniable.
The Queen first visited Italy in 1951, when she was already married to Prince Philip but still a princess.
Her first visit as the Queen was in 1961, and then she returned in 1980, 2000, and 2014.
Each visit was precisely planned, with meetings with the current Italian president and the Pope, and an immersion in the culture, art and tradition of the country.
For example, during the visit in 2000, the Queen and Prince Philip went to the Sistine Chapel and then attended a concert at La Scala opera house in Milan.
An unplanned detour took place in 1980, when the Queen, before leaving, decided to go to Palermo in southern Italy, where her grandmother Queen Mary went in 1925.
She only stopped in Palermo for a couple of hours and wanted to see the places her grandmother had often told her about.
The Queen and Prince Philip dined at Palazzo Gangi, a historic location in Palermo where The Leopard was filmed.
Ilaria Grillini, journalist and author of 'Elizabeth – The Italian Queen', said: "The Queen was a Head of State aware of her role, but despite this, she visited a place just because her grandparents had told her about it, as an ordinary person would.
"She had an emotional attachment to Italy and she was also genuinely curious, always asking questions while visiting cultural and artistic attractions.
"In general, all members of the Royal Family are very fond of Italy, its beauty, art and cuisine."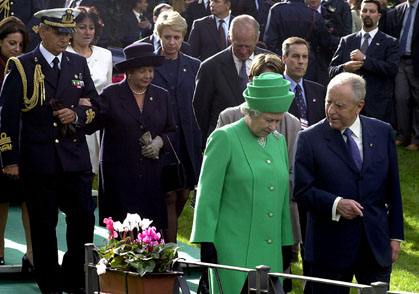 In terms of cuisine, whenever the Queen visited Italy, the chefs at the places where she stayed had to follow some strict rules.
For example, garlic and spicy food were banned, as were spaghetti and tomato sauce because they could be difficult to eat and could stain everywhere.
The 'half-visit' that not many people know about and which Grillini describes in her book took place in 1992, when the Queen had planned to arrive in Palermo, then leave for Malta.
Unfortunately, she arrived a few days after the Capaci bombing, the terrorist attack by the Sicilian Mafia that killed magistrate Giovanni Falcone, his wife Francesca Morvillo and three escort officers.
The highway was blown up and a wooden bridge was built for the Queen, who wanted to stop where the attack took place just to leave a wreath.
"Incredible," she said, and left.
Featured image by Quirinale.it