The number of e-bike and e-scooter fires in London broke records this year, with incidents occurring roughly every two days.
London Fire Brigade (LFB) has reported 123 e-bike and e-scooter related fires so far this year, resulting in 3 fatalities and 51 injuries – figures they expect will rise.
By August 2023, the number of e-bike fires in 2023 surpassed the entirety of those in 2022, becoming the capital's fastest growing fire trend.
Causes mainly stem from their lithium-ion batteries becoming damaged, overheated, and from owners using the wrong charger or making modifications.
On New Year's day, 21-year-old, Sofia Duarte tragically lost her life to an e-bike fire on Old Kent Road.
Duarte was asleep when a fire erupted in her flat but when she tried to leave, an e-bike on fire blocked her escape route to the only emergency door.
Sofia's mother, Maria Macarro, described how the unfair passing has destroyed her life and now all she has left of her daughter, who was once her entire world, is her ashes in a box.
Macarro said, "All of this tragedy was because of an e-bike fire, I can't hug my daughter, kiss her or hold her hand.
"It feels like a nightmare and I can't wake up."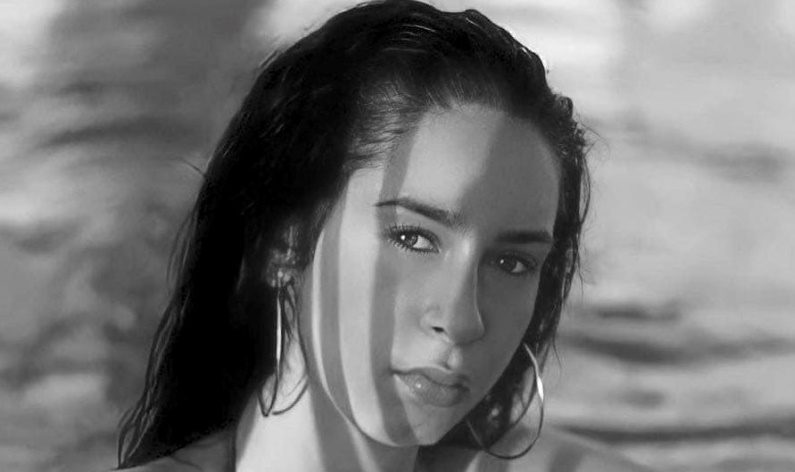 Since then, the mourning mother has campaigned on the dangers of e-bikes in the hope of warning others.
"If we can save someone else's life I will take great comfort in that because at the moment I am hurting and I don't want others to suffer as much as I have done," she said.
Micky Bhasin, 38, Sub Officer from LFB said: "I'd really like to stress that her mother Maria has been really brave in coming forward and working with LFB because it's not been an easy thing for either party to talk about."
The firefighters arrived at the scene of Duarte's fire within three minutes of the first call and it was already a fully progressed fire when they arrived.
Bhasin explained: "That's the ferocity of the battery failing, it's unpredictable."
"It's predominantly difficult to extinguish and globally there is no special solution that anyone has come across that will help extinguish this type of fire."
The LFB launched the #ChargeSafe campaign in March following Duarte's death.
This project advises storing e-bikes safely, buying from reputable brands and using their online Home Fire Safety checker.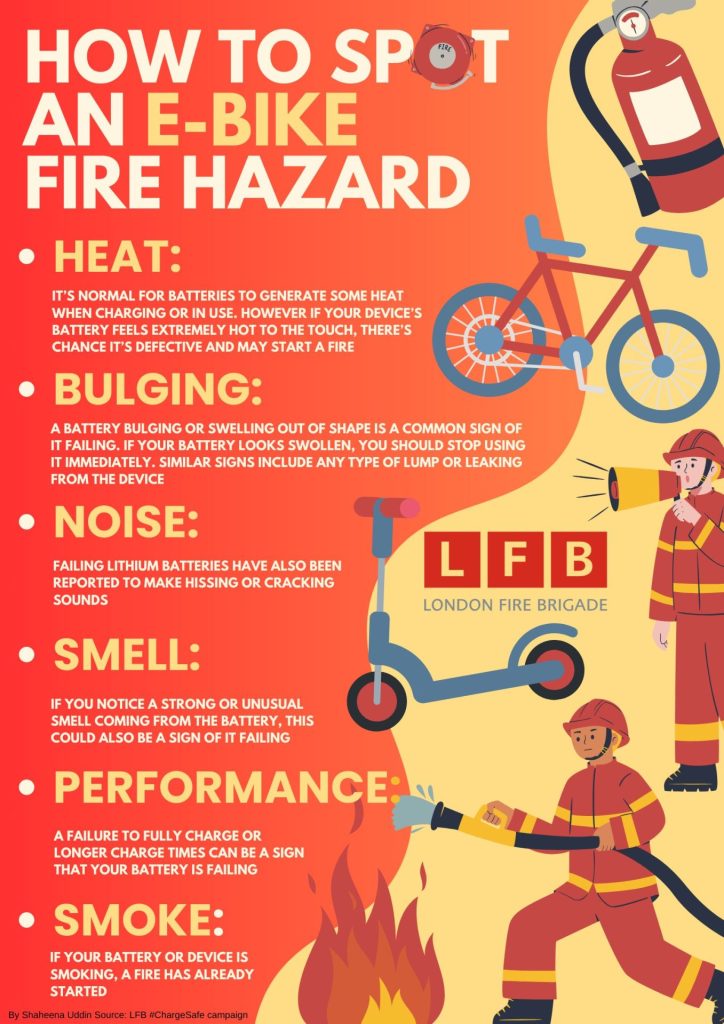 Chelsea & Westminster Hospital Burns unit, the largest in the South of England, are urging Londoners to follow the LFB's #ChargeSafe campaign, after seeing an influx in patients with serious burns from e-bike fires.
Nicole Lee, 39, a burns matron at the hospital, said: "They are our next worrying injury that we're seeing coming through because they're taking up our big burns beds.
"These are people that could lose their homes, all of their belongings and end up with scarring in the future."
E-bike flame injuries cause far deeper and larger wounds than typical burns and often don't heal without surgery, hence requiring weeks of hospital treatment.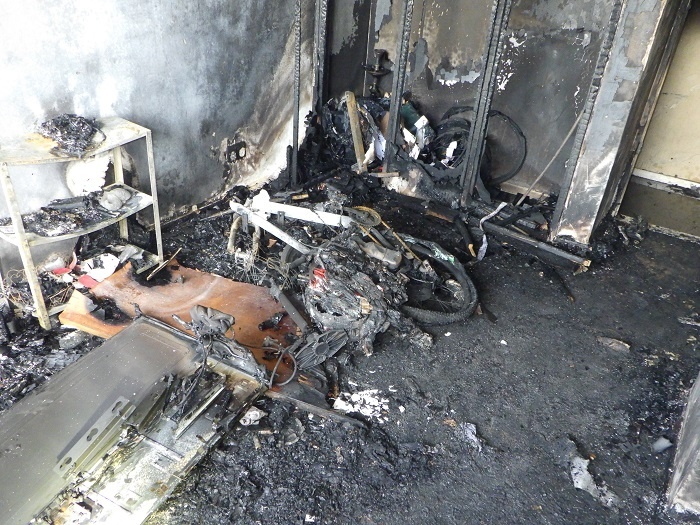 Roger Mityero, 41, from Tulse Hill had his skin "blown off" and received 10% burns on his left arm after an e-bike fire in August, before his treatment at the Chelsea & Westminster Burns unit.
Mityero, who only had the bike for three months, was charging it overnight when it burst into flames.
He said: "Never again would I have one in the house – it was like a box of fireworks going off."
"The little cylinders in the battery started popping and that led to a domino effect – nothing was going to stop it once it was alight," he said.
One precaution the LFB warned against was using conversion kits to modify your e-bikes.
Adam Murphy, 40, from Hackney, converted his bike into an e-bike using a conversion kit in hope to get to work quicker.
His bike caught on fire that very same day after making banging noises.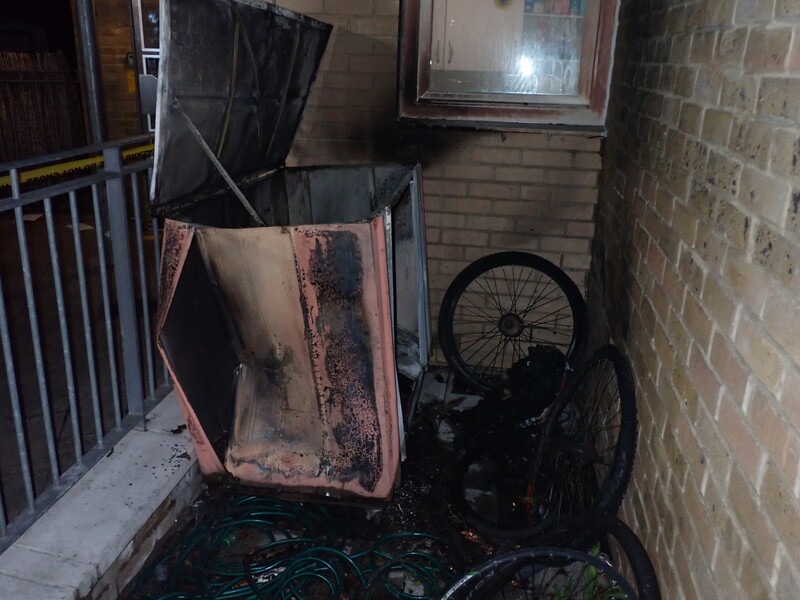 The cost of living crisis has meant some are cutting costs to make ends meet and that includes cheaper, faster forms of transport.
Service drivers often rely on e-bike modifications to meet their tight deadlines and so LFB are calling for greater regulations on e-bike online marketplaces and have been working with food delivery companies to ensure their drivers' safety.
Despite the risks, e-bikes are growing in popularity due to the environmental, cost-effective and fitness benefits.
When used safely and bought from a reputable brand, e-bikes can be an inexpensive mode of transport as is the case for commuter Hasseen Khan, 36, who works in financial services.
Khan uses his e-bike on his hour-long commutes and calculated that after e-biking for over a year he has saved approximately £600 travelling 3000km across 50 journeys.
He said: "My experience with it has been positive so far as I don't use the train anymore and all of that would cost £12 to and back from work and now I don't have to pay anything to cycle outdoors".
Privately owned e-scooters remain illegal in public places and on London's roads, but they are not illegal to purchase and in 2021, Transport for London (TfL) banned e-scooters from London's transport network.