A debt expert from Hackney managed to grow bananas in his back garden for the first time this summer.
Ripon Ray, 42, bought a small banana plant at Columbia Road Flower Market in Bethnal Green more than ten years ago.
But in June, he saw that the tree had started growing about three dozen bananas.
Ray said: "I couldn't quite believe it – they didn't look right.
"It looks like an alien had landed, like in Star Wars or something."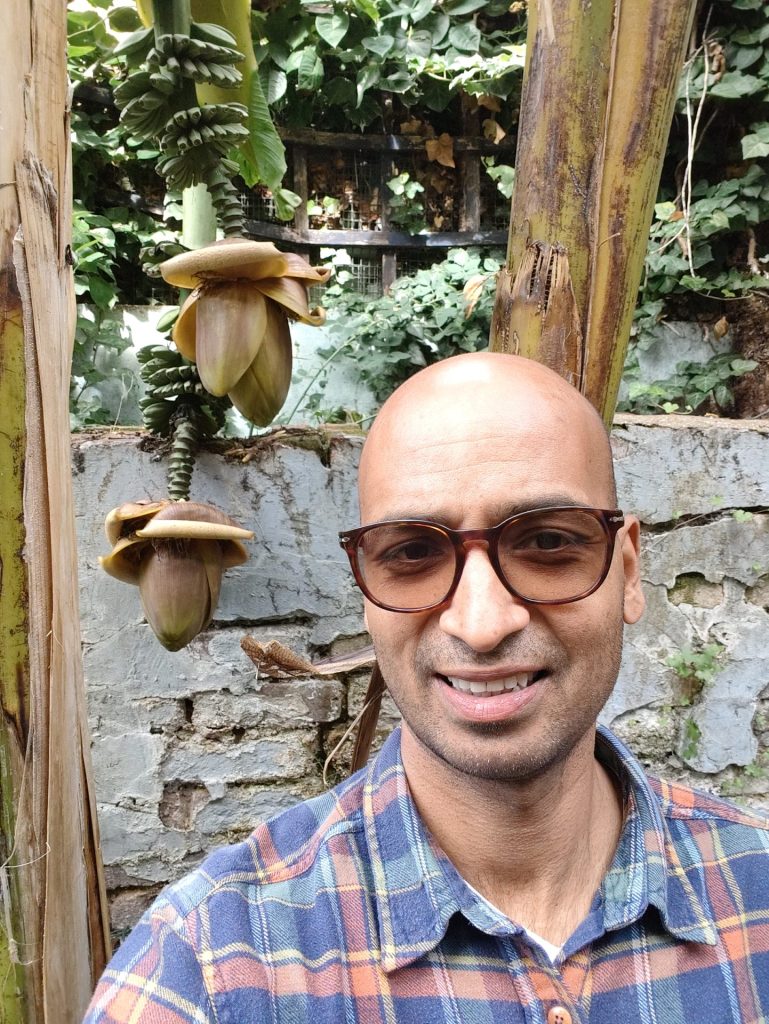 Ray, who lives in Hackney with his partner, Nick De Marco, said he had never paid much attention to the plant in the back corner of his garden.
He said: "I thought I'd just get rid of it. I gave no attention whatsoever to it because it just looked ugly.
"Every winter I just looked at it and thought, 'Oh my God, it is just not going to survive it, it will rot to death.'"
But in the past couple of years, the plant grew bigger, more stable and started thriving.
Ray, who has worked in the debt advice sector for more than 12 years, said: "To my surprise I looked at it two months ago and suddenly realised something was quite different.
"Things were growing so I put a picture up on Facebook."
Someone from Malaysia saw the photo, which had got lots of likes, and commented that the things growing were banana hearts, used in Malaysia for curry.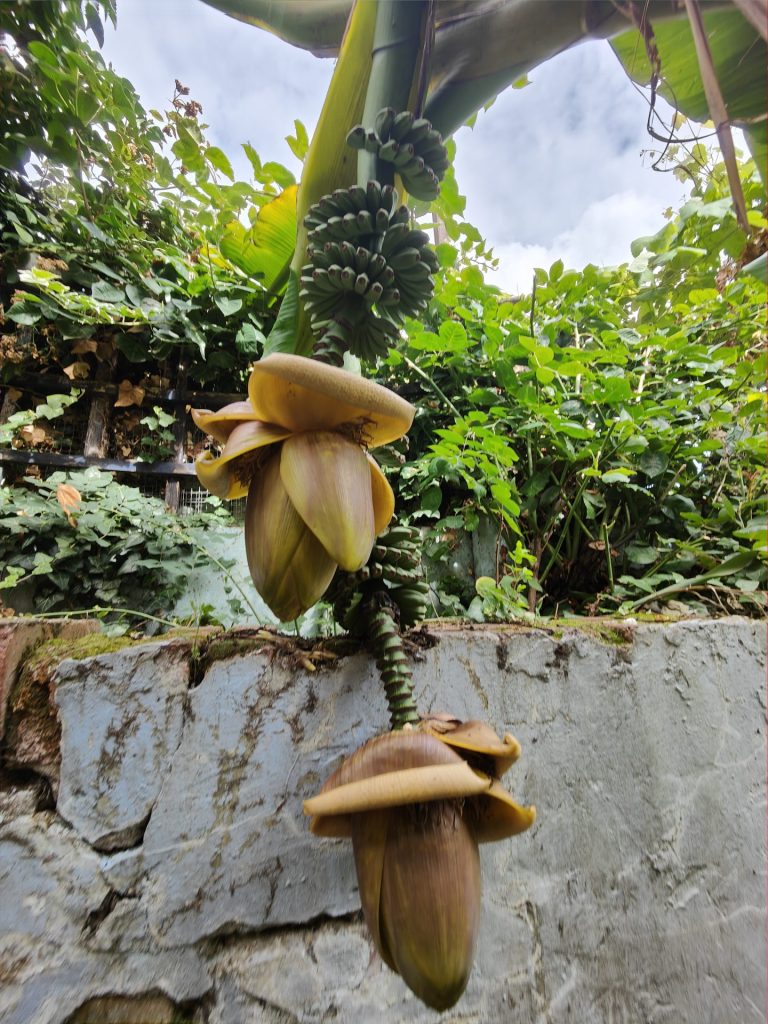 Soon after, the more easily recognisable bananas grew alongside the hearts.
Ray said: "It's fantastic to have bananas and it is a weird thing to happen.
"Bananas growing in London? It's meant to be one of those things that grows in Malaysia, Thailand, India, Jamaica, Botswana – all those hot places.
"Why would they grow in the east end of London?"
One of his neighbours has started growing avocados, another fruit known for thriving in very warm conditions.
According to Ray, the cause for these exotic fruits growing in London is climate change.
He said: "The world is getting hotter – we have to prepare for what used to be Mediterranean heat to be in London."
Guy Barter, chief horticulturist at the RHS, said: "Bananas are reluctant to fruit in the UK as we just do not have enough heat and light for them.
"However, in sheltered and warm areas such as London which is much warmer all year than the surrounding countryside, bananas sometimes will flower and fruit.
"The very hot weather last year and this June will have helped considerably.
"All the same it is quite an accomplishment to get them to flower and fruit."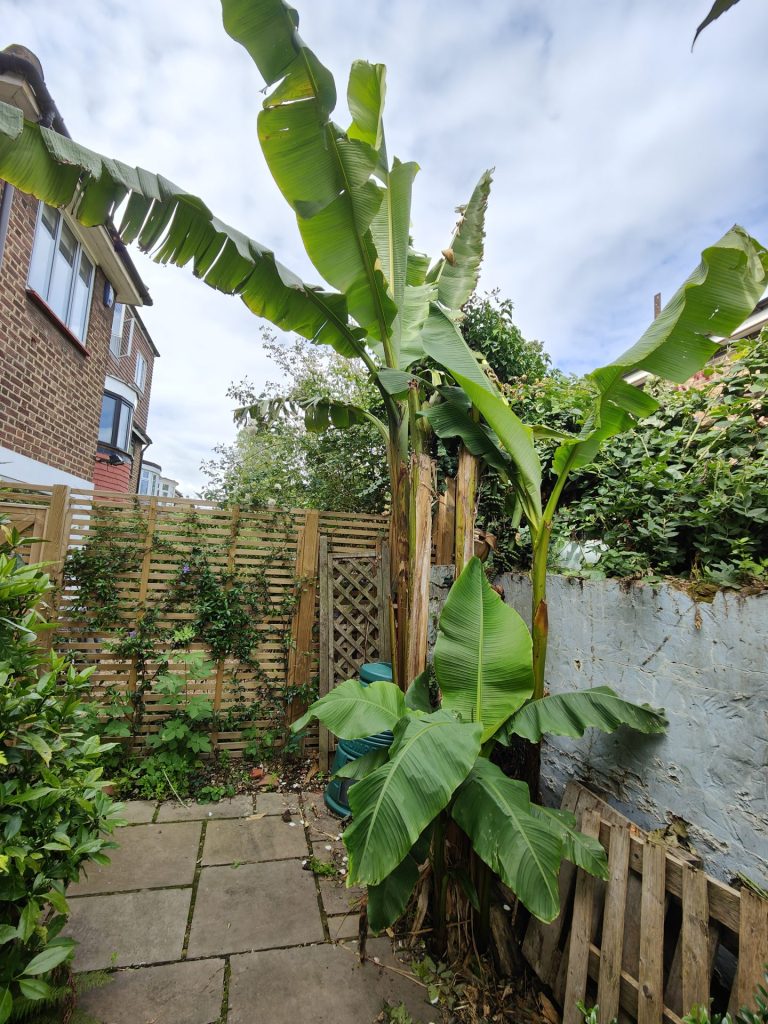 He added: "Under climate change we expect to see warmer conditions which will favour bananas but there will still be cold episodes in winter and not every summer will be hot.
"Bananas also need ample watering and water supplies are expected to diminish under climate change with more frequent restrictions on water use.
"Therefore, although gardeners can expect better success on average with bananas, they are unlikely to be any easy garden plant for the foreseeable future."
Ray also has other plants in his garden, including vines, an apple tree and a cherry tree.
Cherries grow every year and Ray bakes tarts with them.
The bananas aren't quite ripe enough to eat yet and Ray is still thinking about what he will use them for.
He said: "I have no idea – I'm new to this.
"But now I obviously have to learn much more about bananas."
Featured image copyright: Courtesy of Ripon Ray