A display of classic cars and vintage clothes will be coming to King's Cross this weekend as the Classic Car Boot Sale returns.
The Classic Car Boot Sale will be hosted Granary Square and Coal Drops Yard from 10am to 6pm on Saturday and Sunday.
There will be ride-ins from mods and rockers, vintage fashion, classic cars and motorbikes and over 100 market stalls.
DJs will play music from the top deck of a bus with tunes ranging from the roaring '20s to the 80s golden era, across funk soul, rock'n'roll and disco.
To celebrate Earth Day weekend, there will be a Repair Shop to fix up vintage clothes and a collection of classic cars updated with modern electric engines.
From 11:30 to 4:15, experts will help out with repairing and personalising clothes in the Repair Shop.
To coincide with Saturday's 'Record Store Day', rare editions and bargain classics from a selection of vinyl sellers as well as music and film memorabilia will be available.
Honest Jon's Records will be offering hot off the press, limited edition vinyl releases throughout the day In Coal Drops Yard.
There will be street food, drinks and a line-up of vintage ambulances, fire trucks, Royal Mail vans and police cars.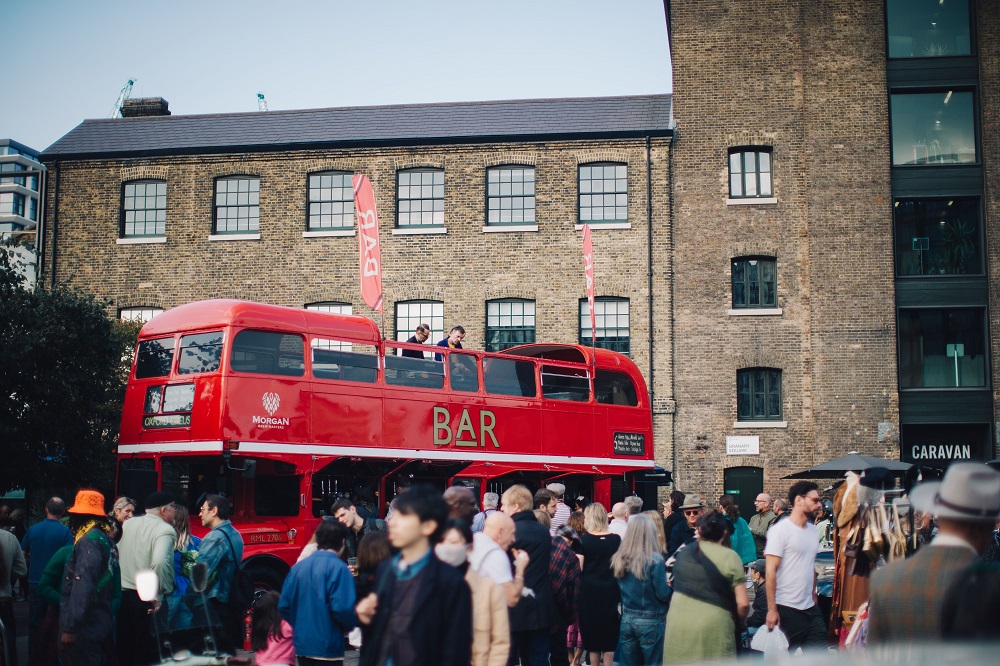 Sgt Pepper's Lonely Arts Club Van, a 1969 Morris Minor van with stunning hand painting that took 6 months and over 300 hours, will also be on display.
In Coal Drops Yard's Boutique by Shelter, second-hand and reworked clothes, jewellery and textiles will be available.
And there will be market stalls from Cancer Research UK, All Aboard Shops and Fara Enterprises situated next to the Repair Shop area.
The DJ line-up includes Wallace & Ashley Beedle, the Wag Club's Chris Sullivan, Owen Thompson and Totally Wired's Noble and Heath and more.
At 4pm the best vehicle, show trader and best dressed will all be presented with prizes.
Tickets are £5 but free for kids and can be purchased on the door at the Granary Square, King's Cross, on the day or visit the website to book.
The event has been curated by design studio HemingwayDesign.  
Featured image credit: Mykola Romanovsky