An Ealing woman is set to run a half marathon this Sunday while wearing a red lobster costume to raise money for a mental health charity.
Sarah Kern, 48, is preparing to run more than 13 miles this weekend, along with an estimated 7,000 runners taking part in the Ealing Half Marathon, but she won't be hard to spot among the crowd.
Kern, who works as a journalist, will be dressed in a "cumbersome" lobster costume weighing half a kilogram, the equivalent of half a bag of sugar.
It is complete with a headpiece, antennae, claws and a tail – an outfit she says is "far too big to run in."
Kern says she decided to wear the costume when she began suffering with injuries affecting her running, but she was determined to take part in the competition.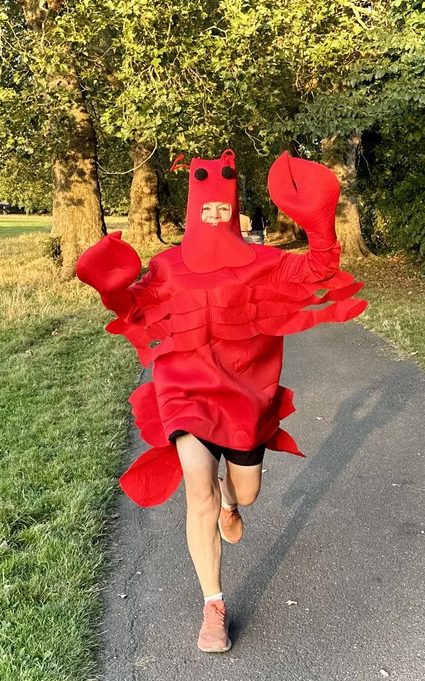 She said: "I thought it would be more fun to run in costume and dance along with all the amazing crowds."
She said she isn't aiming for a particular time to complete the race.
"I am hoping I don't end up crossing the line as the limping lobster," she added.
Kern's training plan has included adapting to running in the costume, but she has not been keen on running in the early hours of the morning.
She said: "I'm a bit worried that people seeing a lobster running around the empty streets of Ealing might get a bit freaked out."
Kern decided to wear the costume to fundraise for the Samaritans charity, who operate an around-the-clock mental health helpline, after her mother Judy Meldrum volunteered with the organisation for 10 years.
Kern said: "I am sure she has made a huge difference to many lives and I got a first-hand understanding of how important a charity like the Samaritans is. To have someone to simply listen is invaluable."
A Samaritans spokesperson said: "We're thrilled that Sarah has chosen to run for Samaritans and raise money to support our work to prevent suicide.
"The kind efforts of people like Sarah and generous donations from the public help Samaritans be there for anyone struggling to cope, 24 hours a day, 365 days a year."
Those competing in the Ealing Half Marathon will set off at 9am this Sunday, starting outside Lammas Park and ending in Walpole Park.
The race is west London's only half marathon where the roads are fully closed to traffic.
It has been held annually since 2012 and it is run in a single lap, taking in parts of central Ealing, Montpelier, Pitshanger, west Ealing, Hanwell and St Stephen's.
Kern described the event as "incredible" and that "the streets are totally full with people cheering, clapping, and dancing. It really is the Ealing feeling."
To donate to Kern's fundraiser, follow this link: https://www.justgiving.com/page/sarah-kern-1694542231625