Oxfam has called for more support to help during the busy festive season.
In response, one volunteer has shared the life-changing impact of her charity experience.
Ana da Cunha, 36, an entrepreneur originally from San Paulo, Brazil, began contributing her fashion expertise to Oxfam Shop Islington in September 2021.
Having struggled through a lockdown malaise, she credits volunteering with rekindling her love of fashion by teaching her to create clothes sustainably.
She said: "In Brazil, in San Paulo, I remember trying to go to some vintage shops. It's a really big city but I remember there were only two or three.
"It was only when I got to Oxfam that I understood how big [second-hand clothing] is here in the UK, and how this could be an answer for so many problems in the fashion industry.
"When I started, I was kind of lost but discovering this second-hand world with a cause, I wanted to learn more."
Rediscovering her passion was a great gift for da Cunha, who has personal and professional attachments to fashion.
She entered the industry six years ago, inspired by childhood memories of her mother making clothes.
"Since I was a kid, I remember coming home with magazines and saying: 'Mum, let's make this jacket!' and she would say 'yes!'
"She was so excited. She never said 'no, I can't do this, it looks too difficult.'
"I asked my mum to teach me but she's an awful teacher. We were fighting over the first dress, so I was like: 'Okay I'm going to take sewing classes.'"
Having mastered sewing – and avoided more arguments with her mum – da Cunha built her own clothing brand, creating bespoke dresses and marketing them online.
In 2016, she emigrated to London to scale the business, hiring two seamstresses and travelling all over Europe to promote her designs.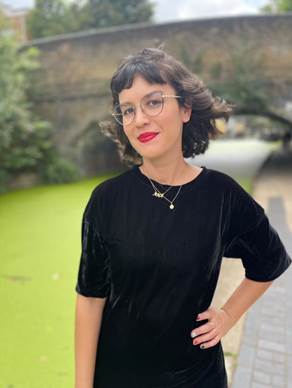 Yet despite her success and the continuing demand for her dresses in lockdown, da Cunha began questioning the purpose of her work:
"When the pandemic hit, I thought, we're not going in the right direction, we're just thinking about consuming, it's not taking us anywhere. I can't see myself convincing people to buy more, when the world is already so full," she said.
Disillusioned but determined to help others, she applied to an Oxfam retail position.
She had previously donated dresses to their charity auctions and wanted to do more work "with a cause behind it."
Da Cunha originally applied to Islington's Oxfam Books, but says "the universe" had other plans for her.
She was asked to work in the second-hand clothes shop instead, where her second-hand journey began.
She has since pursued sustainability outside of her charity work, studying sustainable fashion, clothes repair and upcycling.
Reflecting on the courses, she said: "It was great because I could learn how to make more out of the clothes that are already there.
"If you go to an Oxfam shop and you find something; you like the fabric or the print, but it's not your size or in perfect condition, there are so many ways you can do something about it.
"Prolonging the lifecycle of a garment is the best way for us to be sustainable in fashion."
This ethos is shared by the charity, which has four sustainable solutions for "end-of-life" clothing: reselling, supplying as raw materials to create new clothing, upcycling into entirely new products and converting into energy via specialised power stations.
Da Cunha has also embraced the second sustainable solution by creating new pieces from second-hand clothes.
She's grateful to Oxfam for inspiring and challenging her, and hopes others will be persuaded to try.
"Volunteering can open your mind and give you new ways of seeing things. It's amazing. It can give you confidence again, to go out there and learn new stuff."
If you would like to volunteer with Oxfam, you can apply online here.
Featured image credit: Pixabay