A lingerie designer from Brent has gone viral on TikTok after showcasing her designs that draw inspiration from Pakistani and Middle Eastern culture. 
Aneesa Sabrina Qureshi, 25, is the owner of Hasaria, selling luxury bridal nightwear and lingerie, catering specifically for Muslim women on their wedding night.
Hasaria has attracted a following of around 40,000 on TikTok, with over five million views on its videos.
Qureshi said: "I think it's important for Muslim women to feel the most beautiful on their wedding night, but they also have to feel the most comfortable within themselves.
"This is where Hasaria helps, it makes the woman feel confident and beautiful. It is also a symbol of the beginning of being a wife."
Founded in 2020, the lingerie and nightwear label started out making custom one-off designs, but launched its first collection in January. 
Hasaria, which means exclusive in Arabic, boasts a collection of luxury nightgowns made of silk, satin and lace.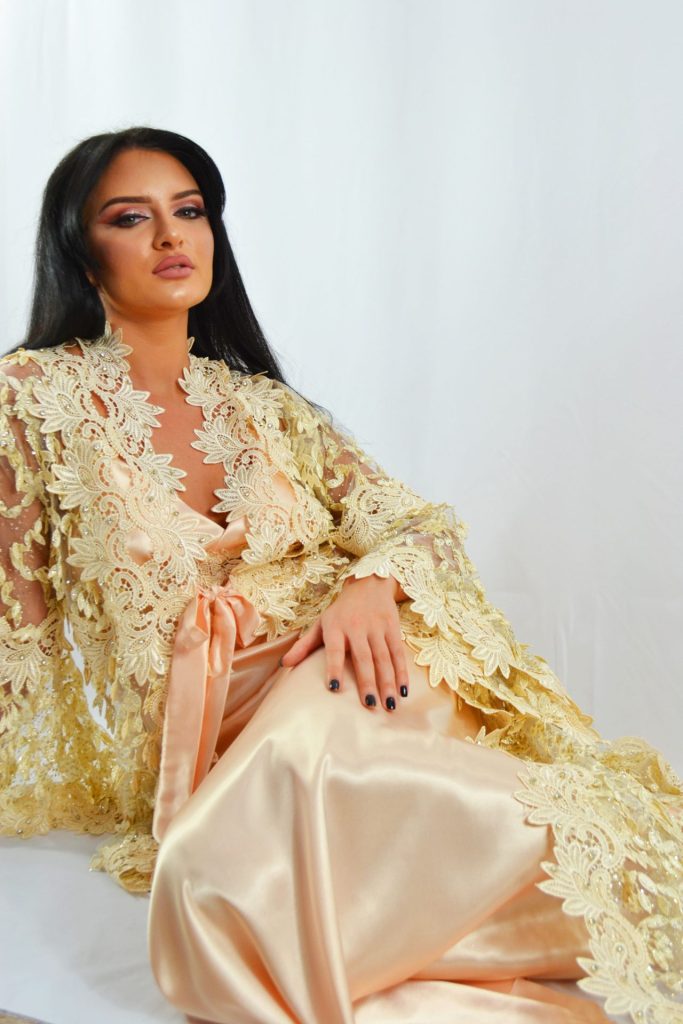 Having studied a fashion degree with a focus on lingerie at the London College of Fashion, Qureshi has taken inspiration from cultures which are known for their modest attitudes towards attire.
She explained: "I'd say the uniqueness of the brand is definitely the concept of creating a lingerie-nightwear brand with a religious and cultural theme. 
"I want the woman to feel comfortable walking around the house in the evening with Hasaria on, not worrying or feeling like she's revealing too much or too little.
"One design I made also has a hood, as it can cover the hair.
"I thought about every aspect of how a woman would feel, culturally and religiously."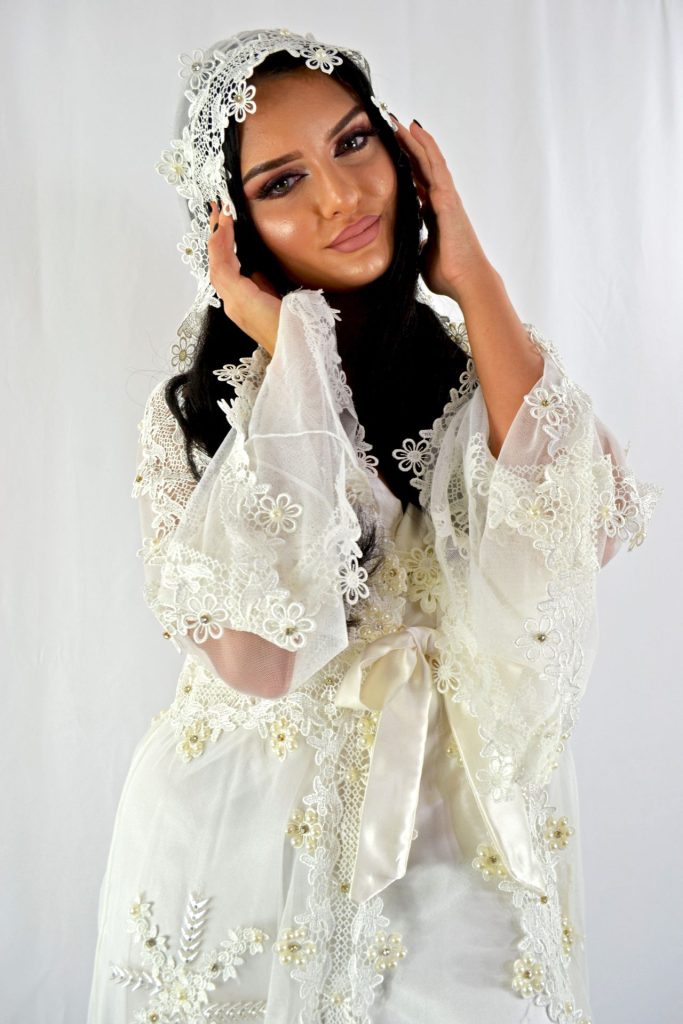 Qureshi translates embellishments found in Pakistani and Middle Eastern art and architecture into her designs.
For example, patterns and designs found on Bukhoor burners (an item used to burn scented wood chips in the Middle East) and traditional Arabian perfume bottles have inspired the detailings of the lingerie and nightwear.
However, the garments also have embedded elements from historical South Asia.
"The Mughal Empire was part of the inspiration for the designs from the Sheesh Mahal, a mirrored palace, to create designs with sequins and mirrored gems for the nikkah night," Qureshi added.
"When I see an art piece or architecture, I imagine how it would look structured on a woman's body and how it would compliment the silhouette."
The London-born designer believes the role of social media has widely contributed to the brand's success, getting a weekly hit of around 15,000 views on its main website, Hasaria.com.
The designer, of Pakistani heritage, hopes her brand inspires open conversations within the Muslim community about Muslim women and expressing their sexuality within the context of marriage.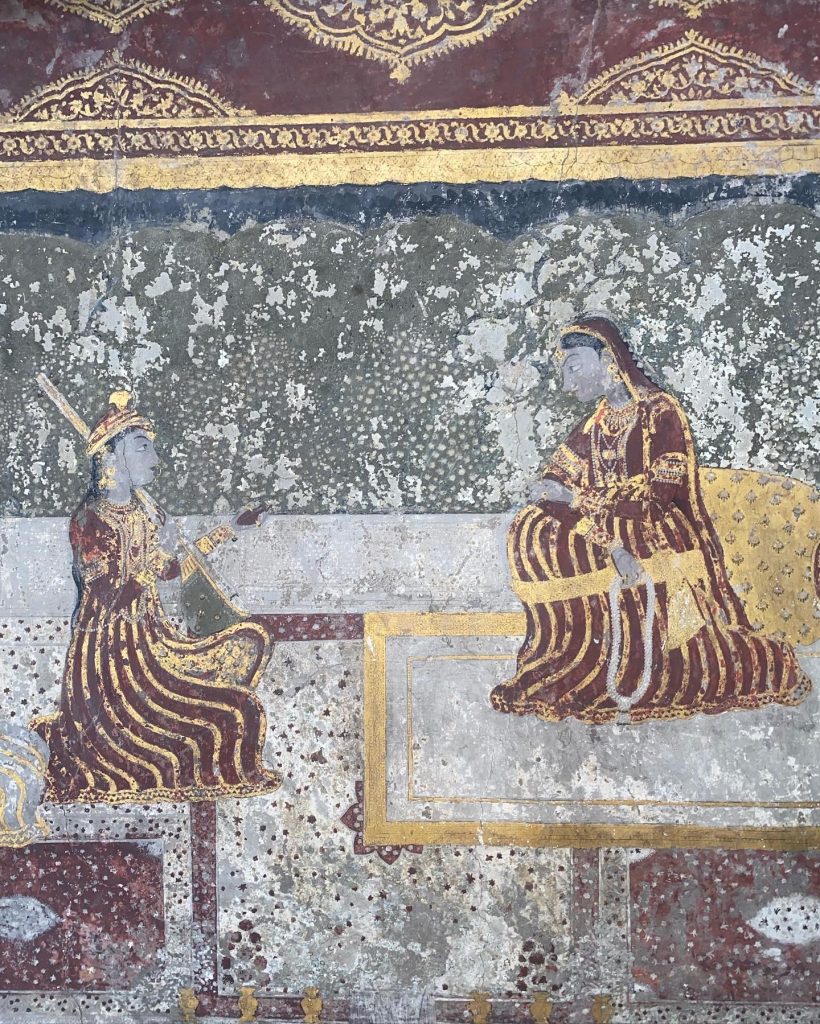 Qureshi explained: "I believe that we are not taught to how to express enough of our femininity after marriage, as it's a conservative topic.
"In the South Asian culture, it can be a taboo when talking about lingerie and nightwear, as it's seen as a private subject.
"This brand gives the space for women to talk about these topics and just know that there's so much more that women can wear when being married."
Family has also played a vital role both in the creation of Hasaria and its subsistence.
Citing her 'feminity' and 'elegance', Qureshi's grandmother, Tahira, also features as a source of inspiration in the brand's portfolio.
Qureshi added: "My mother has supported me through the business aspects of the brand. 
"My dad always said to me he wants me to be happy with what I do in life and he supported me through every step.
"He even helped me deliver my very first orders of Hasaria!"
Qureshi also founded the Lingerie Society at the University of Arts London as a student.
To shop, visit Hasaria.com.