Brent Council ratified a £1.96 million budget yesterday to redesign its civic centre, which is less than 10 years old.
The local council also ratified a council tax of 4.99%, the maximum increase allowed without going to a referendum.
The civic centre plans include a redesign of face-to-face services with a mobile 'meet and greet' team, as well as accessibility improvements, including a new entrance on Exhibition's Way, Brent.
The head of the Liberal Democrat Group in Brent Council, Anton Georgiou, 28 said: "It is a significant, quite staggering amount to spend on a building that is barely a decade old." 
He added that there were things that need to be changed to make the Civic Centre more accessible but £2million was "excessive".
The head of the Conservative Group on Brent Council, Cllr Suresh Kansagra, has supported the councils decision.
He said: "It's an investment, it'll generate some income as well in the future."
The redesign will be funded through borrowing, with an annual revenue cost up to £242K per annum over a 10-year-period.
However, that amount would be reduced if funding can be obtained through the Heritage fund. The council has also stated the redesign would enable savings in Customer Services, Libraries, Arts and Heritage, and Revenue and debt budgets.
Labour Cllr Ryan Hack echoed the Council, that the redesign will bring in additional income.
He said: "Office spaces will be rented out to other organisations or charitable organisations, with talks about setting up an academy/training facility for people to gain skills to transfer into the workplace."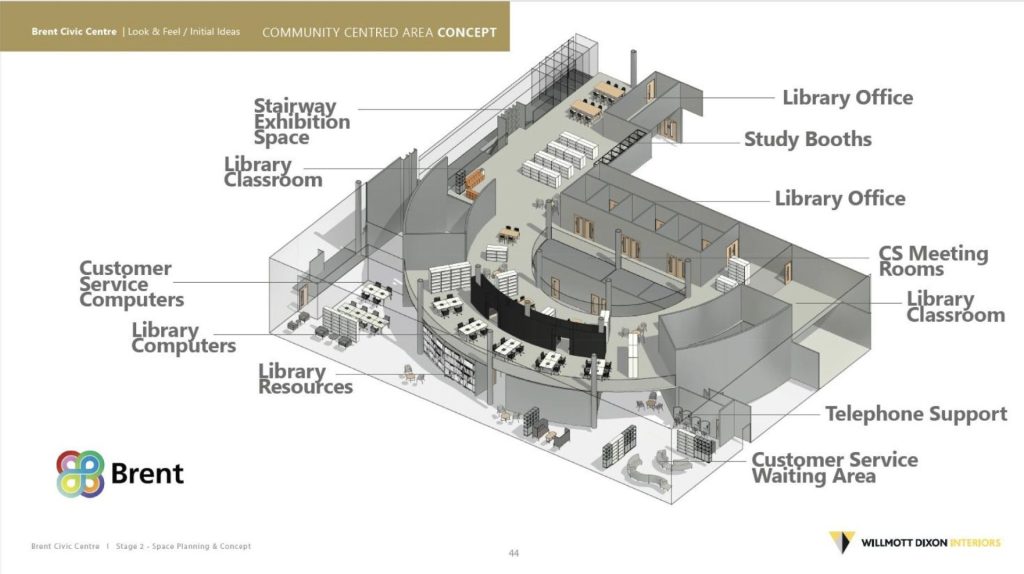 Chair of local residents' association ABCRA, Nadya Isack, 49, expressed worry at the council tax rise and feels "badly done by".
She said: "I am so conscious of other people as well, we've got food poverty, we've got kids at schools who can't afford to have lunches or dinners."
Isack added: "I haven't followed the budget every year, I am a very busy person, I have to look after myself, and I think that applies to a lot of other people as well.
"The majority of us Brent residents are not financially astute, we are not lawyers and these high-flying people and accountants who can look at these things, all we see is somebody taking 5% more but we see nothing in return."
Cllr Kansagra echoed the concern during the cost-of-living crisis and did not agree with a 4.99% Council tax rise.
He said: "We do agree with a 2% increase, ring fence, for adult social care…but we shouldn't burden the taxpayer.
"They claim that the government is cutting the funding, which this year has gone up nearly £12-13 million so there was no need to increase the council tax by that amount."
Cllr Georgiou said: "It is fine to ask for more money, as long as the service is enhanced.
"The money should be used on ensuring repairs of roads and pavements, dealing with cuts to street cleaning, and provisions for youth services."
Councillor Muhammed Butt, Leader of Brent Council, said:
"Setting a balanced budget during a time of spiralling costs and increasing demand for what we do is not easy, especially after a decade of Central Government led austerity. Our priority is to protect the essential services people depend on as much as possible.
"This is not a decision we have taken lightly, especially as we know how stretched people's budgets are. That is why we are reinforcing the safety net for those most in need by committing £3m more to help residents cope with rising costs, on top of the £12.2m we have already provided since August 2020, £1m for a Family Food Fund and £32m on council tax relief for 27,000+ households.
"We work hard to ensure no penny of council money is wasted. The Civic Centre redesign will help our award-winning public building evolve to better serve the needs of residents that use it today. Through hireable spaces, the building also makes money that we can put back into protecting our frontline services."