A third of shoppers (33%) would be flattered if asked for ID when purchasing age-restricted products, a new study has found.
A poll of 2,007 adults showed that those over the age of 65 are most likely to go red at the check-out, with Gen-Z and millennials most likely to feel anxious.
However, a quarter (26%) admitted they would have more negative feelings toward being asked to show how old they are, with one in 10 (12%) saying they'd be annoyed.
The study found that six in 10 regularly carry physical ID with them, despite a third of consumers (32%) believing doing so is outdated.
47 per cent admitted they fear losing their ID when out and about. In fact, the study showed that Brits are less concerned with losing wedding rings or keys than their passport and driving license.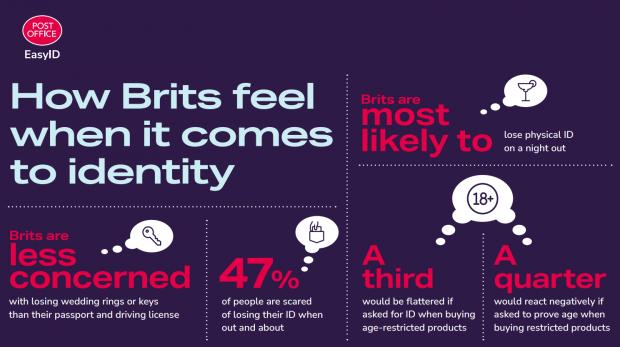 In an increasingly digital age, the survey – commissioned by the Post Office – identified that the need to carry physical ID was the main thing stopping 28% of consumers from getting rid of their wallet.
Over a quarter (27%) are carrying their wallet around with them less vs. last year, increasing to over a third (37%) amongst those under the age of 34. While more than four in 10 (45%) would rather not have to carry around physical ID at all.
It also emerged that the necessity to use physical ID in everyday lives leads to one in 10 (11%) being caught out each month by not having it with them.
Launched in August last year, Post Office's EasyID is a digital identity app that allows customers to prove who they are from the convenience of their smartphone.
A similar study commissioned by the Post Office earlier this year also found that collecting a parcel was the most common reason for needing to prove age or identity in the previous 12 months, ahead of purchasing age-restricted items and registering for a bank account.
Elinor Hull, Identity Services Director at Post Office said: "At the Post Office last year, over seven million items were collected from branches across the UK. In order to keep parcels safe and secure, proof of identity is required."
"Our research showed parcel collection is the most common reason for needing to prove identity. With EasyID on their phone, shoppers can make sure their trip in branch is a breeze and ensure they don't leave empty handed."
The survey also looked at consumer attitudes towards the increasing digitalisation of everyday services, with over half (52%) surveyed agreeing that digital ID checks should be used online to provide greater security.
Online banking, accessing Government websites and using the NHS app were identified as the main areas where consumers believe digital ID checks should be used.
Elinor added: "For many people, leaving their wallet at home and going digital is the ambition. Digital ID can be at the forefront of our everyday lives, providing simple, convenient solutions to shoppers' everyday tasks."
To download EasyID head to: https://easyidapp.postoffice.co.uk
TOP FIVE OCCASIONS FOR BRITS NEEDING TO USE ID IN THE LAST TWELVE MONTHS
Collecting a parcel
Proof of age for restricted items
Registering for a bank account
Hotels and other accommodation
Entry into venues