A rare red weather warning signalling danger to life has been issued as temperatures could to reach 40 degrees for the first time on record in the UK.
The Met Office has put the warning in place for Monday 18 July and Tuesday 19 July for much of England including London.
This means the capital is expected to be among the worst hit places in the country by the heatwave.
London Mayor Sadiq Khan, said: "The Met Office has now issued a red warning for extreme heat on Monday and Tuesday. This is potentially dangerous and a very serious consequence of climate change.
"This warning is not limited to the most vulnerable and means that substantial changes in all our daily routines will be required, and there is likely to be an impact on travel.
"All of the capital's key agencies and emergency services are working closely together to ensure London is prepared for the extreme heat that is forecast and will continue to provide advice for Londoners ahead of Monday.
"I urge Londoners to be very careful and to look after each other in the comings days."
Less severe amber weather warning will also be in place for other parts of the country.
Temperatures are expected to be well in excess of 30 degrees, and there remains a chance that the 40 degree barrier could be broken in the England for the first time on record.
The previous record was 38.7 degrees in Cambridge in 2019.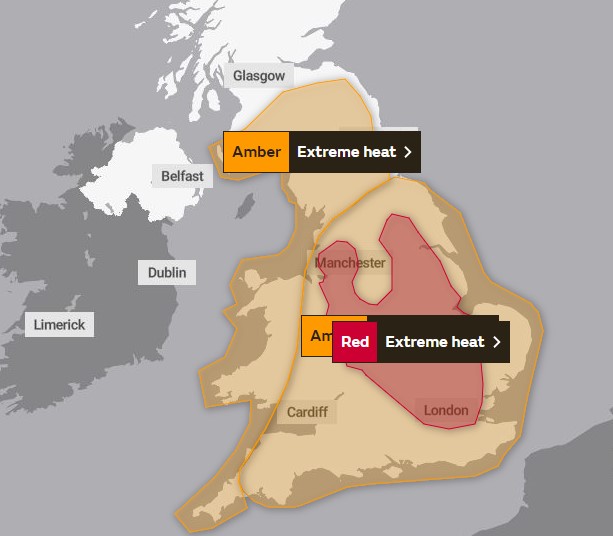 The Met Office warned people to expect risks to health even among non-vulnerable people as well as potential failures of heat-sensitive systems and equipment.
It also said travel delays are possible and people near coastal areas, lakes and rivers could be at greater risk of water safety incidents.
Find advice on how to stay cool in hot weather here.