Protestors in London and Iran are fighting for the same thing: for their voices to be heard over the violence.
Human rights groups fear more than 40 protestors have been killed in Iran, with hundreds injured.
Demonstrations in support of Iranian protestors have spread worldwide, with several taking place in London in the past few days.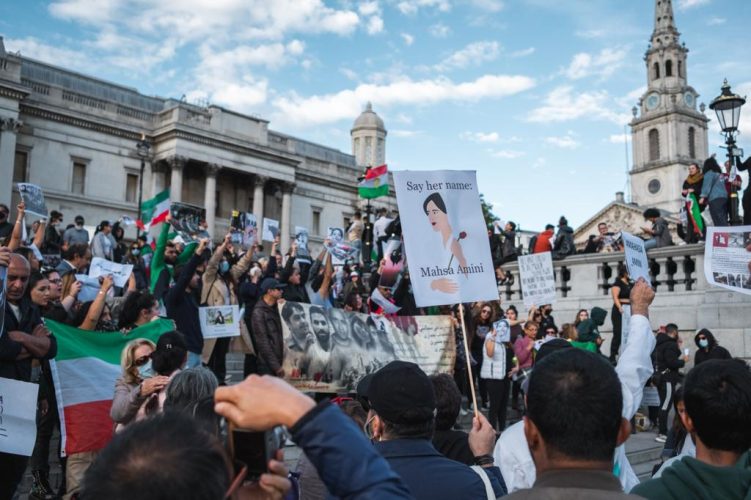 On Saturday, a protest outside the Iranian Embassy became violent, with five police officers seriously injured.
A 21-year-old dual-citizen of Iran and UK who was protesting in London spoke out against the violence.
She said: "Our peaceful protest was hijacked by a small group who have been identified as supporters of the Islamic regime.
"Men were going around pulling off people's masks and taking pictures, so people became angry and afraid.
"The Iranian community is incredibly close-knit, and the men who instigated the violence have been found pictured with the Iranian President."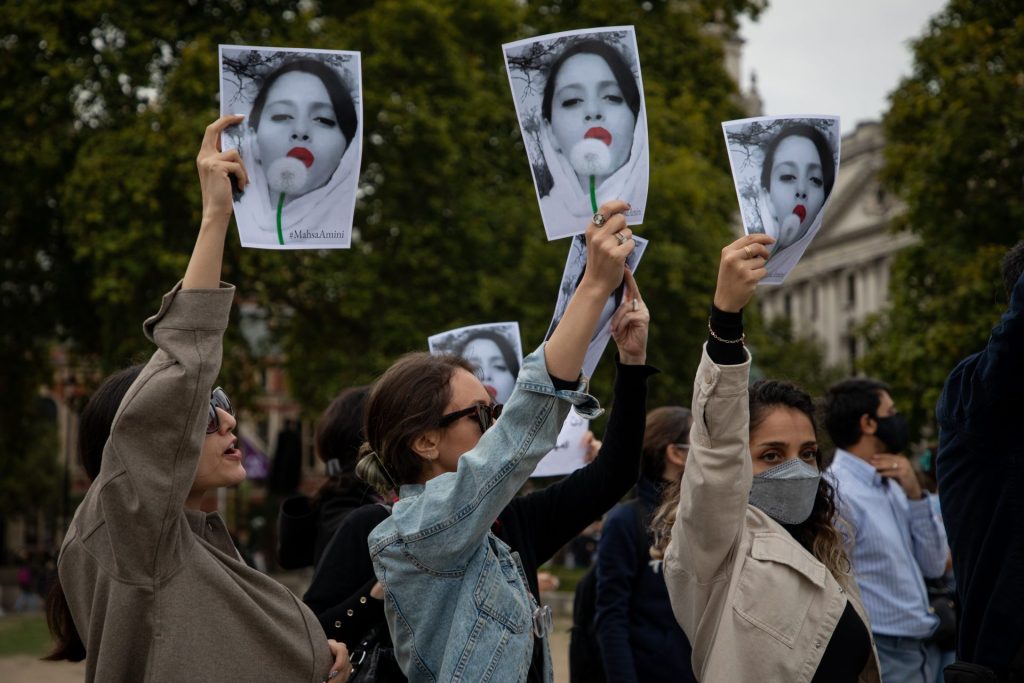 The 21-year-old wishes to remain anonymous because her decision to speak out at the protest has led to her being photographed, with a man asking where she lives and to take off her mask so she can be more easily identified.
She explained: "I can't go back to Iran now. I've said too much.
"Iran has plain clothed police, the Basij, who infiltrate protests to uncover identities and make arrests.
"The same thing is happening wherever people are protesting Iran. The protests are being hijacked and instead of being heard, our message is being silenced.
"All Iranians are afraid to speak out, even here where we should feel safe."
Asal Novin, a 26-year-old pharmaceutical brand manager from London, has family who are protesting in Iran she has not heard from in days.
She said: "I am scared. We can protest and come home, but in Iran, they don't know if they'll come home."
The protests began when Mahsa Amini died in police custody after being arrested for wearing her hijab too loosely.
Mahsa, also known by her Kurdish name Jhina, was visiting Tehran on 13 September from her home city Saqqez in Western Iran, with her younger brother Kiarash, 17, when Iran's morality police arrested her.
Eyewitnesses claim Mahsa was beaten by police and hit her head on the side of the car as she was dragged away.
Further attacks were alleged to have occurred while she was transported and at the police station.
Mahsa later collapsed, slipping into a coma, before dying in hospital three days later.
Police deny allegations of abuse, maintaining Mahsa died of heart failure, citing previous health conditions which have been denied by Mahsa's family.
Just five days after Mahsa's death, in a speech to United Nations in New York, Iran's President Ebrahim Raisi said Iran "are the defenders of a fight against injustice".
At the same time in Iran, deadly force was used to disperse protestors, the internet was shut down, with access to social media platforms like Instagram and Twitter restricted, denying many Iranian's a voice.
Despite this, people in London and across the world have taken up Iran's cry of "Woman, Life, Freedom".
These words, born from the needless death of a young woman, defiantly demands Iran's oppressive regime free all its people.
A 25-year-old lawyer whose family fled Iran when she was a child was protesting in London.
She also wishes to remain anonymous to protect her family still in Iran, but explained these demonstrations, which started with Mahsa, are about the whole of Iran.
She said: "Mahsa is not the first victim of this regime, and she won't be the last.
"We are protesting to give a voice to those in Iran who are unable to speak for themselves."
Like Novin, this protestor has heard nothing from her family since the internet shut down, but she's shared some of her last conversation with her cousin.
She claims: "Every night my cousin has to listen to people begging to be let in.
"She is scared. The police have no restrictions on their power, so men and women have to do what they say."
She also alleged: "She's been arrested before, just because the police think she's pretty.
"While in custody she was made to strip naked and sit and stand repeatedly for the police's amusement."
In spite of great personal risk, many of the protests in Iran have been woman-led, with many shaving their heads and burning their hijabs, as well as the Islamic Republic of Iran's flag.
The same scenes have been seen in London, in protests outside Westminster, the Iranian Embassy, and the United Nation's building.
Adopted in 1980 after the 1979 Iranian revolution, the current Iranian flag reflects the Islamic Republic.
Novin wants what they're protesting to be clear: "We want people to know by burning the hijab and flag. We are not protesting against Islam.
"Most Iranians do not feel represented by this flag. It represents the brutality, oppression, misogyny, and homophobia Iranian's face every day.
"By burning it, we are fighting everything it stands for."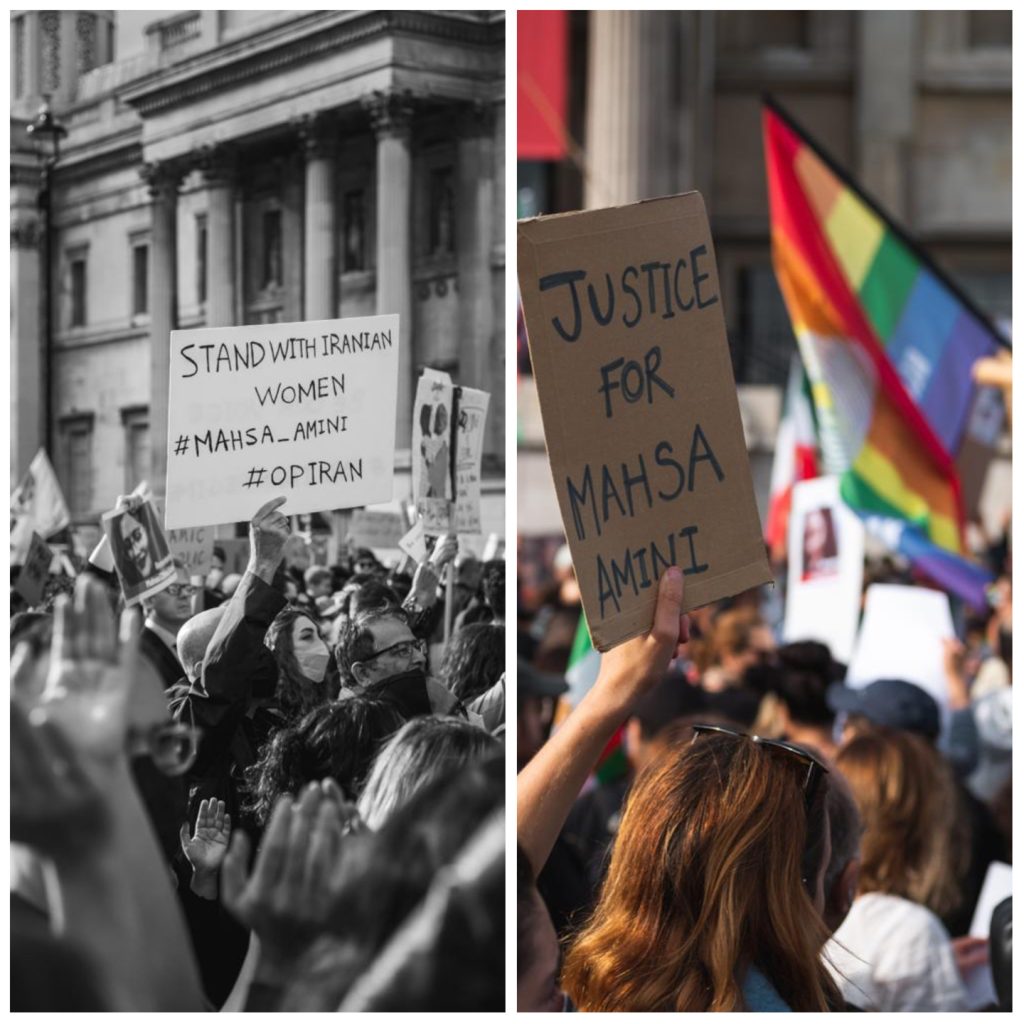 She continued: "Since 1979, Iranians have been slaughtered in silence and they need people outside Iran to hear them for the government to be held accountable.
"We are chanting in English so people will understand and listen.
"Even just one story, one like, one retweet, can help amplify the voices in Iran."
Many of those present at the London protests heavily condemn the violence that occurred.
They want the world to come together, to protest together, peacefully, so the people of Iran know they are being seen and heard, to give them the courage to keep fighting.
The Iranian Embassy did not respond to a request for comment.
Featured image credit: Amir Farhoud