The first ever over-40s tag rugby league will start this Friday in Paddington, with nearly 40 players set to take to the field.
The new league will expand the ever-growing network of leagues run by Try Tag Rugby in Britain, which has gone from around 40 teams to 880 in 14 years.
The aim of the over-40s competition is twofold, with both physical and social benefits for new and existing players.
A lot of players started playing in their 30s when tag began in London but are now in their 50s competing in leagues with 20-year-olds.
Managing director and joint founder, Alistair Davis, 43, explained: "It allows a standalone league for older players to play together, which might be a slightly slower pace.
"Some of them will find the mixed leagues a little bit more challenging these days, having to run around against people in their 20s."
Oli O'Mahony, 47, is an experienced tag rugby player, but also echoed this as he believes younger players have a slight edge with their speed. 
He said: "If there's a league for the older age groups, then there's an attraction there.
"It's a harder group to reach but is an age that may not realise how much activity and fitness they are still able to do."
Tag Rugby is a non-contact version of rugby, whereby players remove velcro tags instead of tackling.
The sport is open to all, with male, female and mixed leagues in multiple locations around the country and abroad.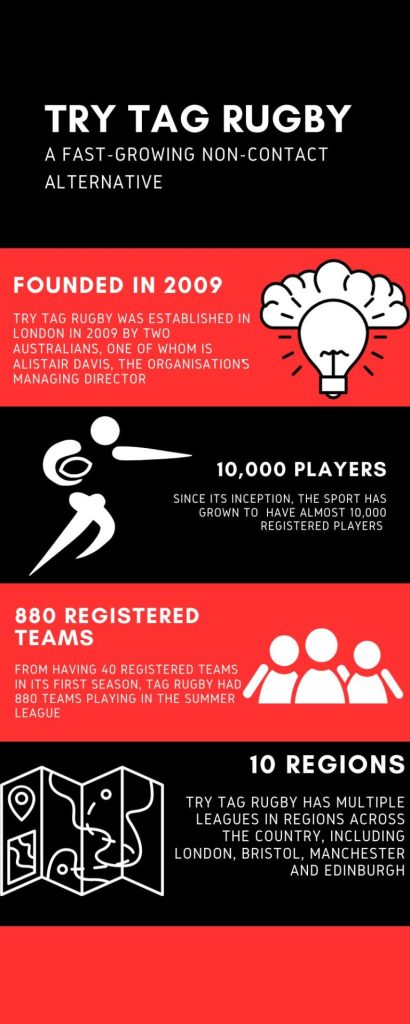 In this particular league, older players will be further encouraged to participate through a bonus point system for tries scored by over-50s and over-60s.
As with sports like walking football, the new league represents a push to encourage over-40s to stay active, but also to take up tag rugby.
John Younghusband, 64, is one of those trying tag rugby in Paddington for the first time this week, having last played rugby when he was at school.
As one of the older players in the league, John is showing no signs of slowing down and knows that staying active is important, as well as staying social.
He explained: "You don't stop doing things because you get old, you get old because you stop doing things.
"I had a couple of taster sessions, they're a friendly crowd and they go to the pub after."
Part of John's motivation stems from when he broke his neck aged 32 after coming off a horse and spending months in a spinal injury unit.
Despite that injury, John is very active and runs, swims, plays tennis and even goes gliding, but the idea of another non-contact sport appealed to him.
He said: "The privilege of having your physical health is not to be taken for granted.
"The doctors made me aware that I was incredibly lucky to walk away.
"They reckon I was three millimetres away from a wheelchair.
"What is good about tag rugby is the referee is very quick on any potential hazardous incident."
The league has been well received so far and, should it be a success, Try Tag Rugby will look to roll it out further afield.
Davis said: "If the feedback is good, we've got to roll out probably another one on the south side of London.
"We could then speak to our various licensees that are running the regions and see if there's any sort of appetite to do something similar."
Featured image credit: Try Tag Rugby